It's such a big trend this season that it deserves its own full article (click here). You need some inspiration to master the trend without looking too vintage? Look at Gucci ads (or wait for my article)! You will need a touch of orange – or any terracotta hues, some graphic motifs and a brown leather jacket on top. Foxy Brown 's style garanteed!
Here below my favorite pieces of the season!
The suit is back again! Let's say he actually never left our wardrobes, but got some excessive volume on the way. Masculine and oversized, you shouln'd be scared to play the game "I'm wearing Grandpa suit". Wear it cool with a turtlneck thin jumper and with big earrings or neklace to feminize the look.
Cherry blossom, peonies and other flowers bloomed all over our wardrobe, renewing the romantic prints we already wore last season. Colorful and joyful, these patterns love to be mixed together (when the hues or the pattern are similar) or with bright colours. 
This fall, it was impossible to miss this classic print – sometimes called "plaid". And this Winter it's even more popular. We love it everywhere! On our coats, suits, trousers and accessories. Even if we like to mix, this pattern is better on its own, highlighted by another contrasting colour (navy and red check jacket with a dark green jumper for exemple).
Inspired from the 70's (again) the tweed has never been that popular since!! Retro and usually asociated with Chanel, the tweed is definitey my favorite material of the season! Wear it with sneakers for a cool and modern style.
The animal lovers will be happy! The fake fur is more and more popular and our favorite designers are slowly quitting the real one. We love the "Teddy bear" style for the warmth and comfort, in bright colours please!
Get into the Carnival spirit because this is happening! Many designers revealed their paradise birds during the Winter collection catwalks: Burberry, Balmain, Valentino,… From black and white to bright! Unless you're lucky to hit a red carpet, let's play minimal. Accessories will do the look.
The dance floor of Studio 54 is calling you! It's never too much glitter, sequins or gold. Before looking like a Christmas tree, tone down your accessories and keep your hair and make-up natural. My final best advise, avoid this look at work (unless you work in a club).
All our best wishes for 2020, a lot of love and happiness, and of course champagne and shopping!
♥/Elo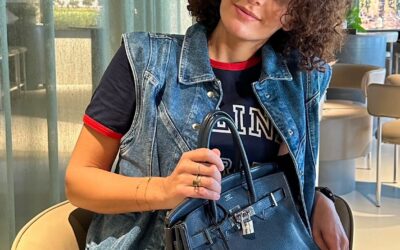 How to take care of your luxury bagJune 2023 Taking Care of Your Luxury Bag: Essential Tips for Longevity and Maintenance A luxury bag is not just a fashion accessory; it's an investment that deserves proper care and attention to ensure its longevity and pristine...