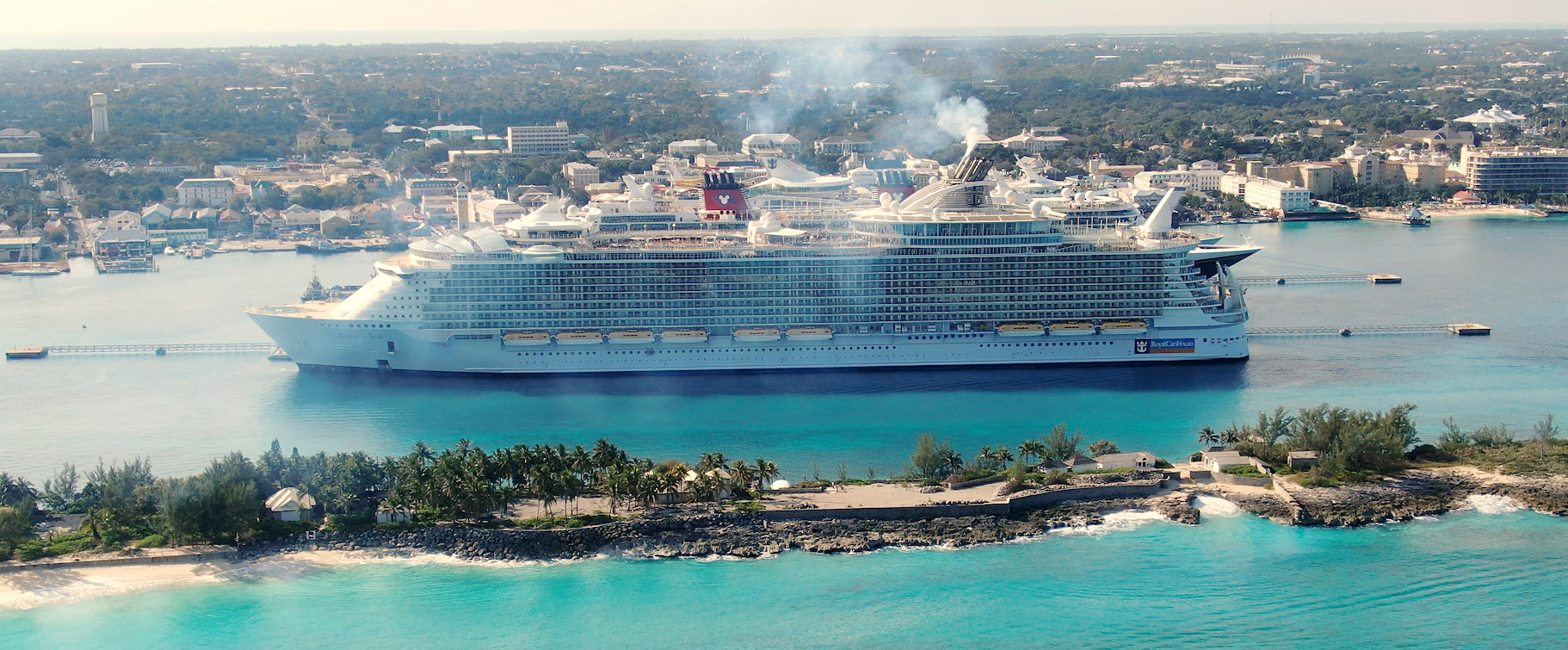 Royal Caribbean cruise – review and ship tour
What is it like to go on a cruise? We answer the most important questions for first-time cruisers.
If you are considering going on a cruise for the first time, you are probably trying to weigh the pros and cons before making your decision. In this article, we will provide you with key insights and answers to some of the typical and most important questions.
We sailed with Royal Caribbean on a 7 Night cruise onboard Allure of the seas – one of the world's largest cruise ships. It was Elo's first ever cruise. She was full of prejudice – and normally gets seasick just by the thought of sailing, so it was an uphill battle from the beginning. It was my (Per's) second cruise, and I was convinced that I could turn her around, since my first cruise was a massive success (also with Royal Caribbean). If you don't feel like reading, you can see how it went in the YouTube video below.
Is it crowded on a cruise ship?
No – absolutely not! If this is one of the reasons you're concerned about going, get this notion out of your head. Though it might seem odd, that you can gather almost 9.000 people on a ship without it feeling crowded, remember that these cruise ships are built to provide guests with the best possible experience. The only time you will see a lot of people in the same spot is probably during the Sailaway party on the top deck when departing on Day 1.
You rarely queue for anything. Of course it can happen but I don't recall us queuing a single time for food or activities. The two flowriders were quite popular, but we didn't see more than 4-5 people queuing at any given time.
And bear in mind our ship was fully booked! Many times, especially during the evenings, we felt like we had parts of the ship all to ourselves. One night we went in one of the many jacuzzis on the top deck with a champagne ice bucket. All alone under the sparkling night sky – what could be more romantic?
Not crowded at all – and the Allure of the Seas was fully booked.
Oh, boy! If you like great food, and plenty of it, you are in for a treat! We were blown away by the quality of the food onboard Allure of the Seas.
Though there are specialty restaurants onboard that cost extra (like the amazing 150 Central Park), there are plenty of free options included in a standard cruise ticket.
It's quite a special experience when you go for your first dinner at the main dining room. It's like going out to a nice white-tablecloth restaurant, but when you look at the main section of the menu card, there are no prices on it. You can have exactly what you want, and your personal waiter (the same person throughout your stay) will happily assist you and most likely make you order a little more than you need. Want 3 starters or 2 main courses? No problem – so watch your weight!
If you are more into the casual buffet style, the Windjammer is a safe bet. They change the menu throughout the week and there is a 0% chance for you to try everything they offer. I have never seen so much food in my life. With both calorie-heavy and healthy options, there is something for everyone.
Here you can see the list of all the dining options onboard Allure of the Seas. If you go to bed hungry, it's your own fault.
Be careful – all this delicious cruise food is dangerous!
Will you get seasick on a cruise?
The short answer is: no! The ship is so enormous that it takes quite a bit of bad weather to cause any unwanted motion. We didn't experience any rocking at all during our trip. This was the main fear for Elo and the primary reason why this trip almost didn't happen. She gets seasick just by thinking of going on a boat, so it was no easy task arranging this cruise.
However, you do sense that you're not on land, but it's difficult to describe the exact feeling. It's just important to note that it's highly unlikely that you will experience any seasickness. You're probably a bit more vulnerable to rocking if you choose a smaller cruise ship, but on Allure of the Seas, it was no problem at all.
It's hard to beat this view. Sunsets at sea are something you have to experience at least once.
How much does it cost to go cruising? What's included in the price and what costs extra?
It's cheaper than you think! And a cruise is jam-packed with free entertainment, food, and experiences (all the shows are for free, and they are absolutely world-class)! However, there are extra costs you have to factor into the travel budget besides the actual cruise tickets (traveling to and from the cruise ship + maybe a hotel stay unless you get an early flight, gratuities, etc.) Furthermore, we suggest you spend a little extra to upgrade the total experience (like a beverage package, internet, etc.)
Depending on the season and in which part of the world you wish to cruise, the prices fluctuate a bit. An example of a 7 Night cruise budget for a couple could look like this (if you can't arrive early enough to board the ship the same day):
Mandatory costs:
Cruise tickets: 2 x €500
Service gratuities: €196
Flight tickets: 2 x €400
Taxi tickets (total): €75
Hotel stay + food: €180
Mandatory total: €2.251
Recommended add-ons:
Internet (1 device): €126
Beverage package: €308
Excursions for two days: €300
3 x specialty restaurants package: €200
Recommended add-ons total: €934
Total price: €3.185
Of course, you could choose to purchase extra internet devices or an extra excursion, but what really impacts the budget is if you choose the Deluxe Beverage Package, which both of you have to purchase. Unlimited alcohol and beverages 24/7 – everything from exotic cocktails, premium coffees, beers, smoothies – you name it. The downside is it will cost you a total price of ~€1.100 for the entire cruise. In the example above we chose a Classic Soda Package and a Refreshment Package, which was plenty for our needs. Even if we bought quite a few cocktails, it was still cheaper than the Deluxe solution. See the packages here.
Of course you could also choose to upgrade from a standard cabin to a room with a balcony, or even a suite. Browse through the gallery on this page to see some of the amazing suites they have to offer. Obviously, they are in a different price range but still reasonably priced.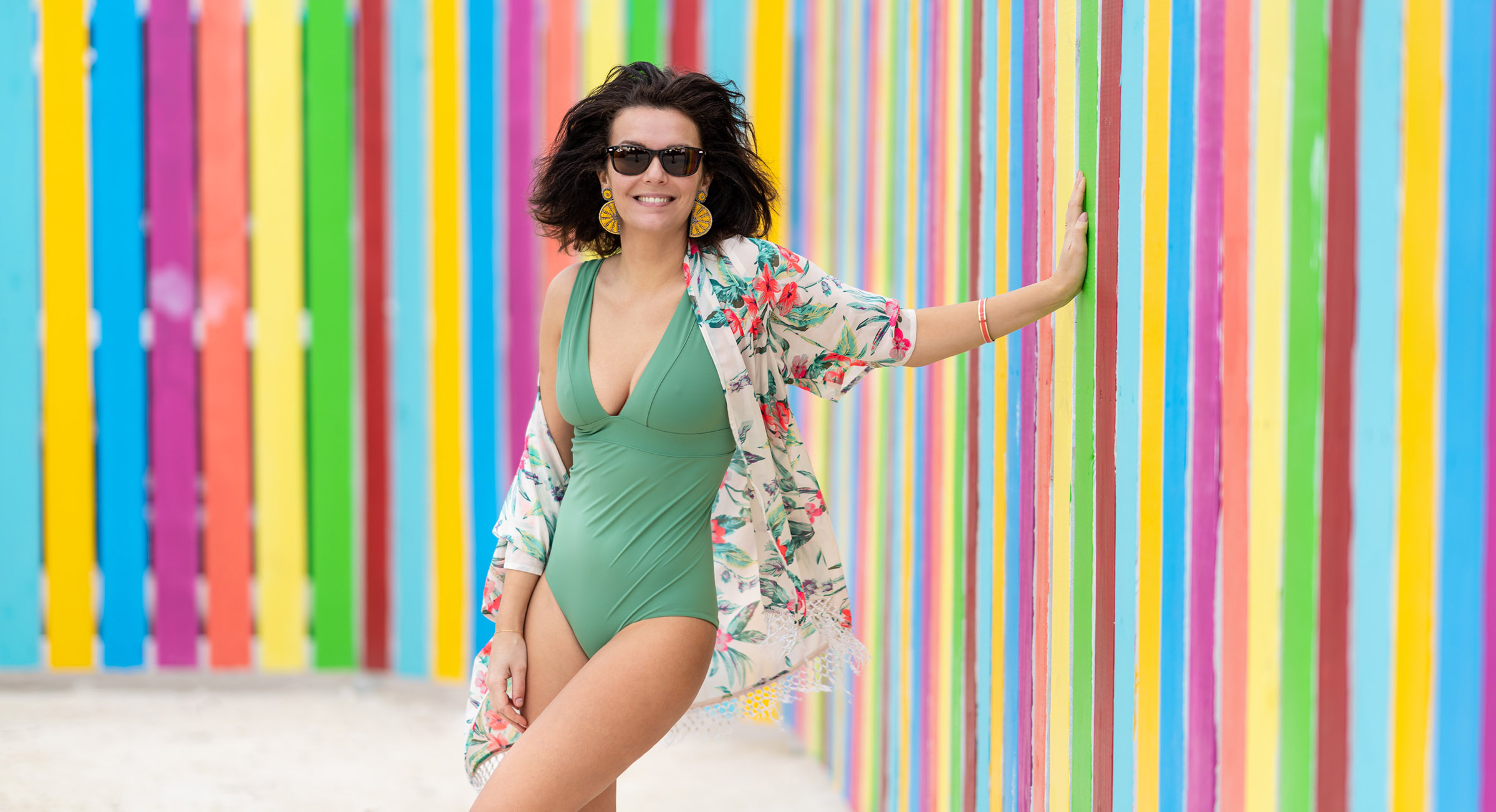 At Royal Caribbean's own island, CocoCay, there are plenty of spots perfect for your Instagram feed or photo album.
Boarding and disembarking a cruise ship – chaos or stress-free?
During check-in and boarding, there was a bit of queuing, but much less than what we expected. Royal Caribbean is used to handling huge crowds, so it was a nice and smooth experience.
Getting on and off the ship during stops is super easy and stress-free. No queuing, no hassle of any kind – almost as easy as going out your own front door. Before the cruise, we imagined 100's or even 1.000's standing in line, but it was super easy and convenient during all the stops. There are security checks but they're much less strict than at the airport.
There was quite a bit of queuing during disembarking on the final day though, but I guess that's to be expected. A good tip is to settle your bill the night before (we highly recommend prepaying the gratuities before your trip, so you don't have to worry about that part). Most people won't have anything to settle, but it could be cash withdrawals from the casino or other stuff. There are always people struggling with their credit/debit cards at the end of the trip. Make sure you're not one of those and bring extra credit cards if you have.
Getting on and off the ship is as easy as can be.
Do you have enough time for sightseeing at each stop?
You typically arrive at the destinations early morning and leave late afternoon. In most cases, that's enough time to get a feeling of the city/area you're visiting. Some excursions are full-day events, while others leave you a decent amount of time to also have a look around on your own.
It all depends on the destination, and there are plenty of excursions to choose from. Some are rather simple and cheap (€30-50), while others can be quite expensive, but most are in the €60-100 range per person.
We personally just like to go about on our own, and during our cruise, we only took 1 simple bus tour around Cozumel. Maybe next time we'll choose to swim with dolphins or venture deeper into the countryside.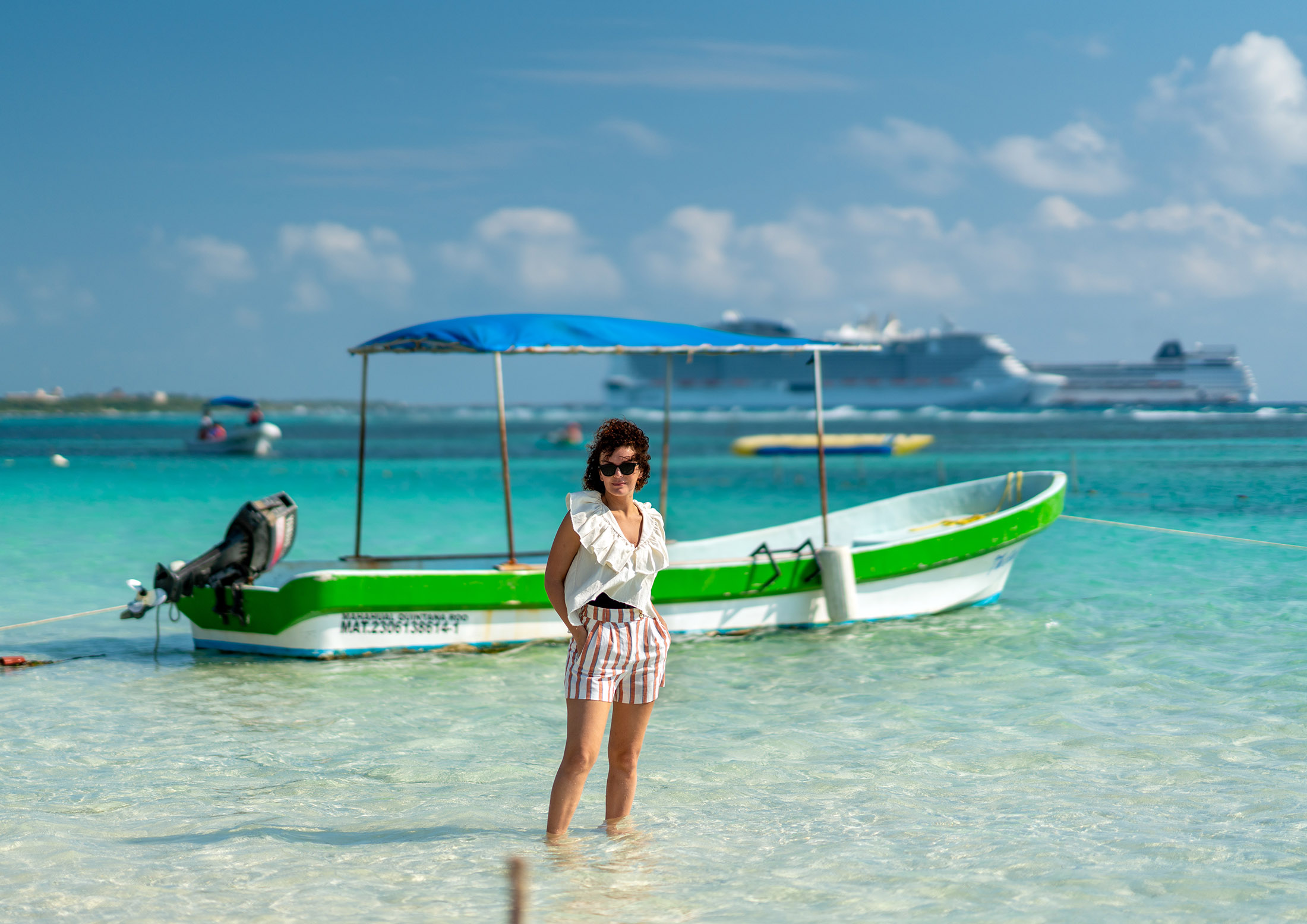 Crystal clear water at Costa Maya in Mexico. Perfect for a photoshoot.
No matter how you choose to spend your time, you are guaranteed plenty of memories for life.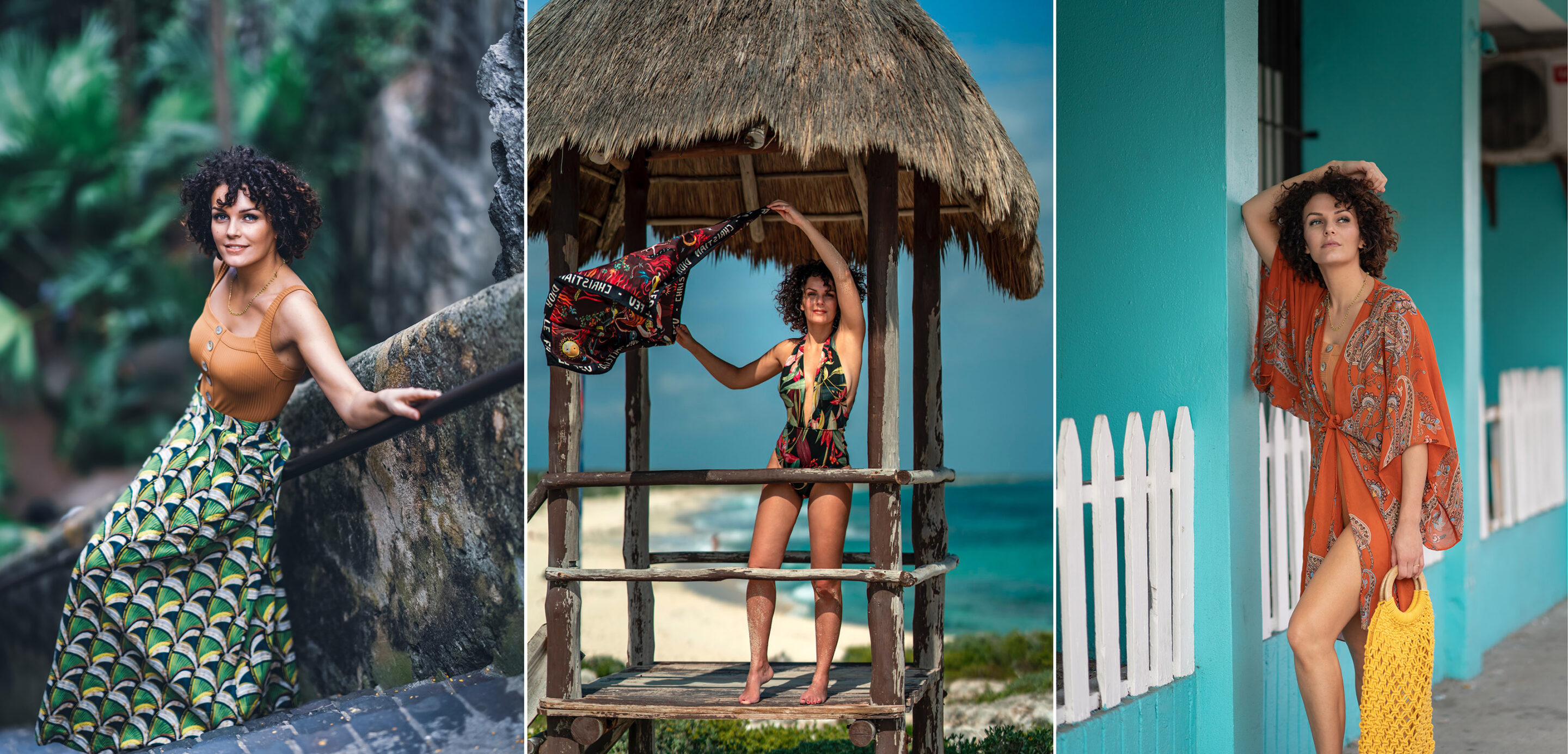 If you follow the blog on social media, you know we love fashion and lifestyle photography.
Cruise entertainment – boring or brilliant?
If you are concerned cruising is boring, or there aren't enough options to entertain you onboard, click HERE, press play, and go to 4:30 in the video. There is no way you will even be able to experience everything in full within a week of cruising.
The main theater seats 1.380 people and offers shows of extraordinary quality. Remember to put this on your list along with the impressive AquaTheater at the back of the ship. This is world-class entertainment – don't miss it!
If you like to gamble, you will find the largest floating casino in the world onboard Allure of the Seas with ~1.650m2/18,000ft of space. It's very impressive to experience, and besides the regular slot machines and table games, there are lots of fun competitions and raffles every day. Furthermore, it's one of the few cruise ships that have craps tables onboard (world's funniest and most social casino game by far).
If you need some peace of mind, a stroll through Central Park never ceases to amaze. Or relax with a drink at one of the countless bars. Or go to the stand-up comedy club. Or go to a live art auction. Or do exactly what you want, when you want. You're never more than a few hundred steps from your room, so enjoy the cruise life on your own terms.
There's always something going on. You will never get bored onboard Allure of the Seas.
Who goes cruising? Passenger demographics might surprise you!
Only old people go cruising, right? Wrong! There are plenty of websites with statistics about this topic, and it looks like the average age is mid to late 40's.  However, you will find people of all ages, couples, families, and singles as well.
What they all have in common though, is that they're out to have a good time, so you will only see friendly smiling faces wherever you go. You don't have to be social, but there are plenty of opportunities to make new acquaintances.
Since we were cruising in the Caribbean, the majority of the passengers were American, and (sorry for this to our fellow Europeans) they are a lot more outgoing and social, so it was easy for us to blend in. Anyway, cruising is for everyone!
How good is the accommodation?
Depends on your budget (which type of cabin/suite you select) but we can honestly say it was much better than we expected. And keep in mind that we stayed in the absolute cheapest and smallest room onboard the ship. Our plan was to negotiate a nice big suite, but everything was fully booked, so we had no chance but to skip the "Suite Life" since we were traveling with a couple of our best friends. Click HERE, press play, and go to 2:00 in the video to see a quick tour of an inside stateroom.
Though the beds could have been more comfortable, after a full day of sun, sightseeing, and cocktails, you will most likely sleep like a baby anyway.
Even in the smallest rooms, you have a sofa to relax on, a TV, a fridge to keep your beverages chilled, and a decent-sized bathroom. There's really nothing to complain about.
Most people, especially first-timers, will most likely not spend much time in the room anyway since there's so much to experience. Though we would like to review one of the suites, we wouldn't mind going for an inside room again, if everything else is fully booked.
It's the same person who takes care of your room during the entire stay. They will do everything they can to make sure your cruise experience is as pleasant as possible, and it's comforting to know that your belongings and valuables are not handled by "random" staff members.
The completely opposite of Suite Life, we stayed in the smallest, cheapest room onboard the ship – and we would happily do it again.
Conclusion and final question: is it worth it?
YES!!! As you probably realized already, we had an absolutely amazing trip with Royal Caribbean. We will definitely go cruising again in the future. Enjoying fantastic food, shows, and partying during the evening – and waking up the next day at a new exotic destination… What's not to like?
The only real downside is that it's almost impossible not to gain weight. There's just too much delicious food and drinks around you all the time. Even though you go to the gym or run around the ship on the jogging track on deck 5, you have to be mentally prepared to face reality on the scale when you come back home. With that being said, isn't it ok to let yourself go once in a while? After all, you paid for it – so why not enjoy it?
Thank you very much for coming this far. We hope you enjoyed the article (and video) as much as we did creating it, and maybe this will inspire you to go on your first (or next?) cruise. If so, we would love to hear from you.
Take care and happy cruising!
/Elo & Per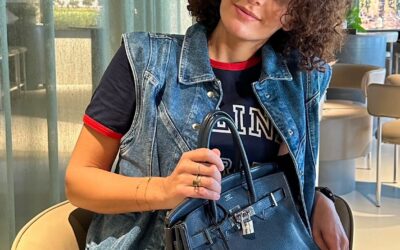 A luxury bag is not just a fashion accessory; it's an investment that deserves proper care and attention to ensure its longevity and pristine condition.
read more