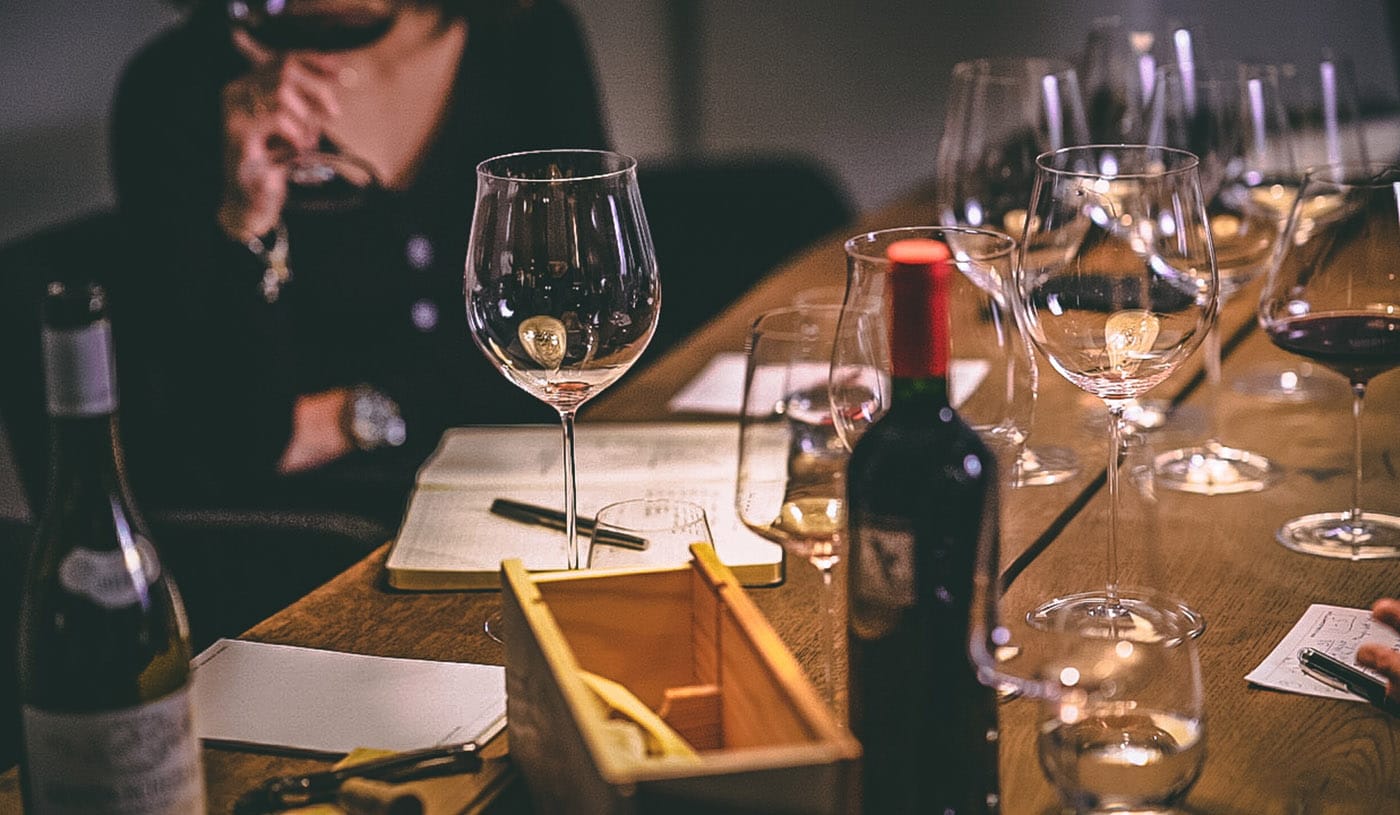 The finest stemware from Riedel and Zalto in the ultimate tasting.
In this article, you will find everything you need to know about the world's best wine glasses. If you are serious about enjoying your wine, this article is for you. Why enjoy an exclusive bottle of wine, without giving it a chance to present itself in the best way possible?
Let me start out by saying this loud and clear: even if you are just a tiny bit serious about wine (and I'm not referring to those, who empty a bag-in-box a day), then you should consider upgrading your stemware. Does it really make a difference? YES – it makes all the difference!
Though none of the featured glasses are cheap, they're not unobtainable either, and they will last forever if you take good care of them. There are many benefits to having great wine glasses:
The bouquet will smell better.
The wine will taste better.
Your guests will be impressed.
The glasses look amazing.
You will feel happier inside, every time you pour a glass.
Enough already! Just make something up and buy the damn glasses – I guarantee you won't regret it.
But what is the best wine glass exactly? The most presentable? The most durable? The best value for money?
It's none of the above – at least in my opinion… The best wine glass is the one, that presents the wine in the best way possible concerning bouquet and taste.
Let's be honest: you're not here because you're looking for tier 2 or tier 3 wine glasses. You're here because you are looking for the best of the best, and guess what: that's exactly what you're going to get, so read on!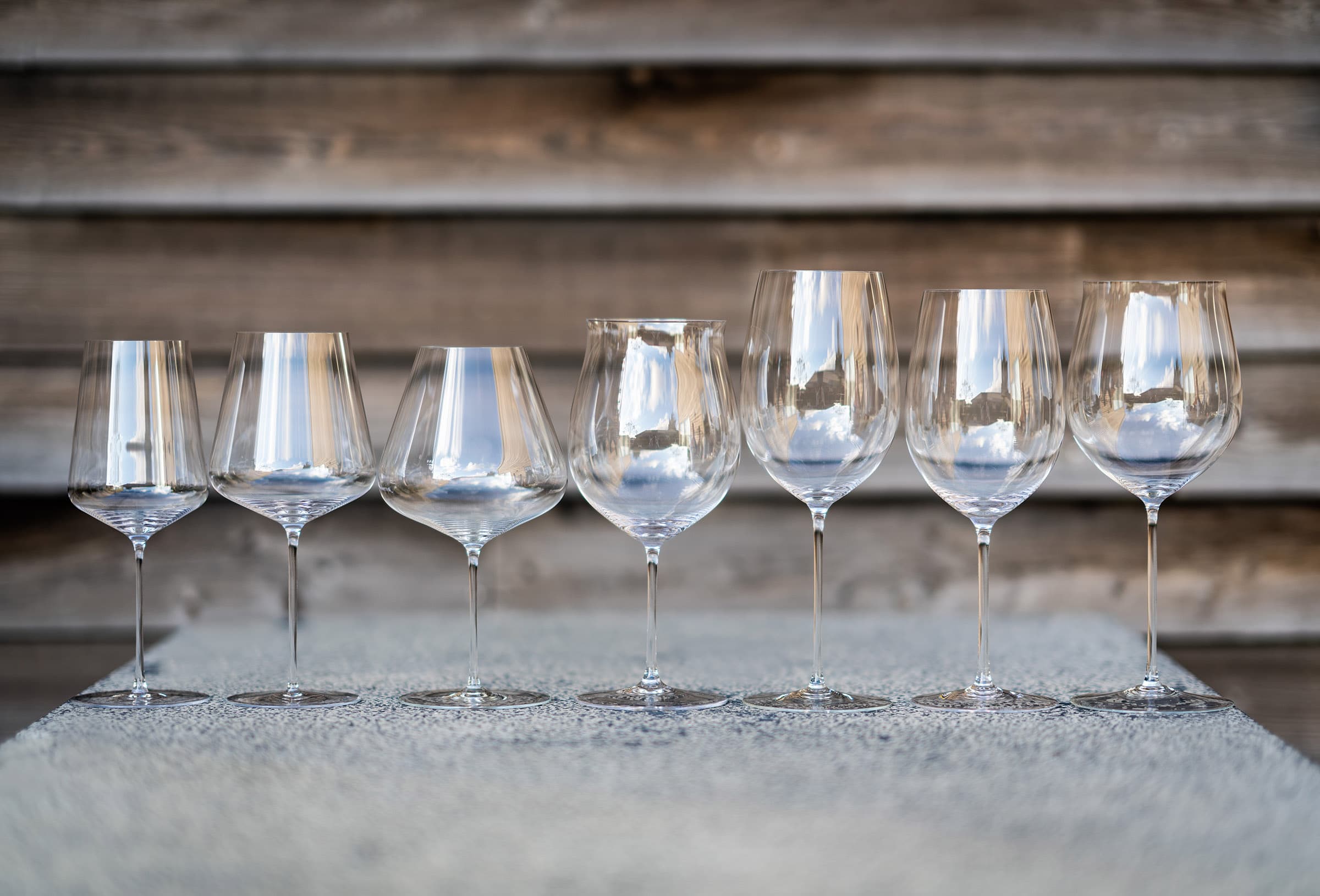 Presenting the lineup from Riedel and Zalto.
When it comes to exclusive wine glasses, Austria is the center of the world – period!
With many years of experience trading wine, and having collected wine and glassware for almost 20 years, I have tried pretty much all the major brands – and I almost feel an emotional connection to many of the glasses in my collection (it's a bit geeky, I know).
Though there are many great manufacturers around the world, two brands stand out from the rest. Allow me to introduce to you:
Riedel
This brand shouldn't need any introduction. With a history dating more than 300 years back, this Austrian based company is a giant within the industry, owning two other major brands: Spiegelau and Nachtmann.
With a wide assortment of great quality glassware in different price ranges, you are sure to find a match for your style or wallet, but it's in their top series, that Riedel truly shines.
The hand-made "Sommeliers" series was launched in 1973 and was the first grape varietal specific glass collection ever introduced to the market. Riedel offers 26 different glasses in this range! Being a part of the Museum of Modern Art collection, the Sommeliers series are not only great vessels for your wine, but true pieces of art as well.

Superleggero

– launched in 2015 – a series of 10 different glasses, these are the ultimate, thinnest, most elegant (and most expensive) hand-made glasses from Riedel.
After taking over the baton from his father in 2013, Maximilian Josef Riedel (11th generation) has been responsible for several successful launches as CEO and President of Riedel. Among them are Superleggero and the latest series Performance, and I'm super excited to see, where he will take this great company in the future.
Some of the finest, most exclusive, and best wine glasses in the world – paired with incredible wines = gooood times!
Zalto
If Riedel is the Goliath of the industry, Zalto is David, but make no mistake. This (relatively) small company in Austria has skyrocketed to fame in just about a decade, and has captured the hearts of leading sommeliers & connaisseurs around the world.
Their Denk'Art series has harvested international awards all over the world, and when you receive The Unimprovable award from The Wall Street Journal, you know you've made it.
– and when you get mentioned in Suite Life's article about the world's best wine glass, it's even better! 😄
Pushing the classic production methods to the extreme, the glasses are hand-made and (most likely) the thinnest and some of the most elegant in the world.
In contrast to Riedel, Zalto does not manufacture a glass for each grape, but produce 6 different wine glasses in the Denk'Art series, covering all types and styles of wine from Burgundy and Bordeaux to Champagne.
Zalto is here to stay, and you better get on board before the prices skyrocket, along with the already increasing demand!
Before we get started, it is important to emphasize, that Suite Life has not been paid by either Riedel or Zalto for creating this article. I did this because of my love for wine and stemware.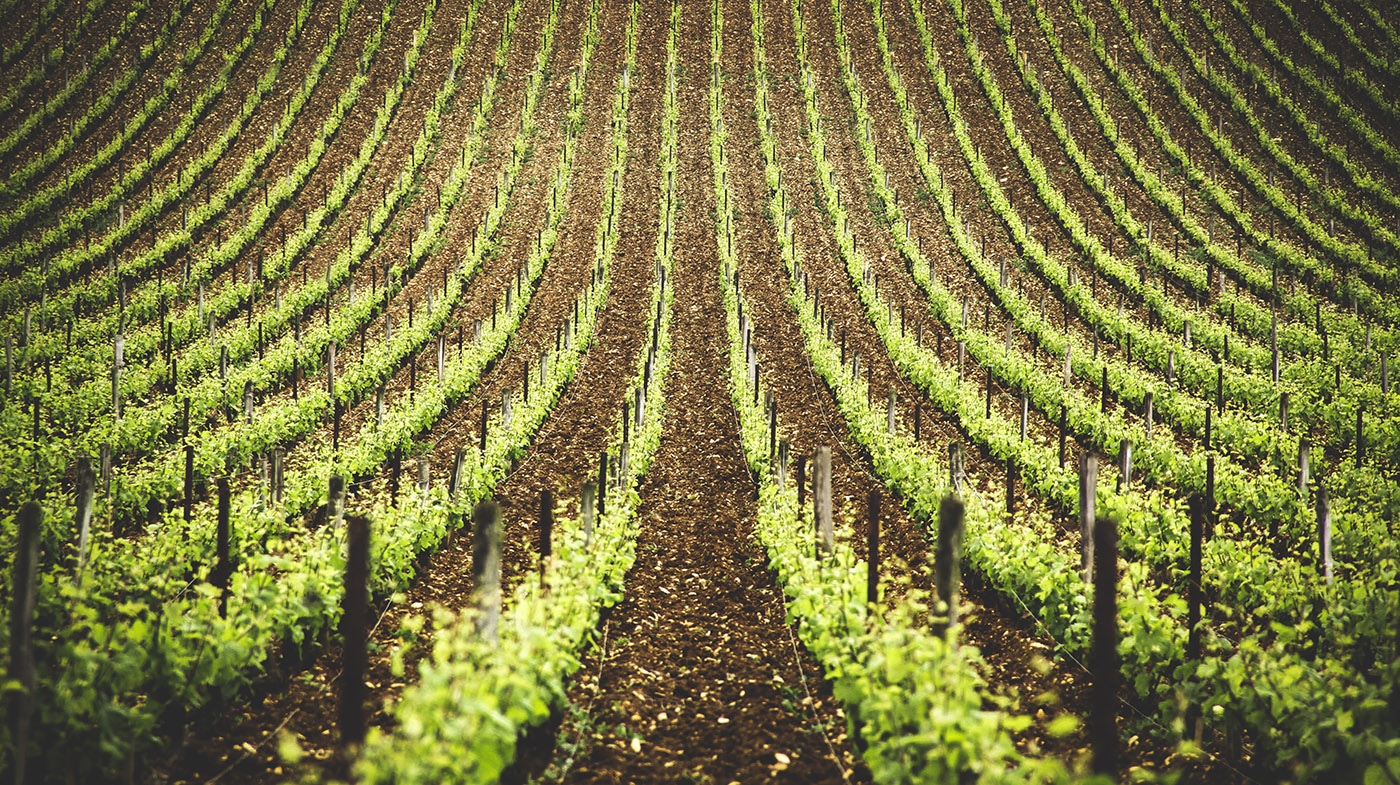 I took this photo of the Richebourg vineyard in Bourgogne 12 years ago. If you ever get a chance to try a Richebourg – go for it!
How we tested:
We chose the following 4 glasses from Riedel, which are all in the €65-80 range:
Sommeliers Burgundy Grand Cru
Sommeliers Bordeaux Grand Cru
Superleggero Burgundy Grand Cru
Superleggero Bordeaux Grand Cru
– and the following 3 from Zalto priced around €35-50 depending on the market:
Denk'Art Burgundy
Denk'Art Bordeaux
Denk'Art Universal
A "small" or less good wine can be destroyed in a big glass, and since we didn't want to risk that (and because we love wine), we gave them something to work with. Allow me to present:
Screaming Eagle 2011
One of the very best wines America has to offer. From Napa Valley this beast (or bird) is in a class of its own. Made of 75% Cabernet Sauvignon and equal parts Merlot and Cabernet Franc. A cult wine produced in very small quantities, resulting in extremely high prices.
Mongeard Mugneret, Grands Echezeaux 2014
One of my absolute favorite domains from Burgundy is Mongeard-Mugneret. I love the way that Vincent Mongeard manages to express the terroir in his wines. Owning parcels in the right areas of several Grand Cru and Premier Cru vineyards, Mongeard Mugneret produces stunning wines year after year, which is quite remarkable – since the main issue with Burgundy (in my opinion) is, that it's not always great – but it's always expensive! If you ever come across this bottle regardless of vintage, buy and keep for a special celebration!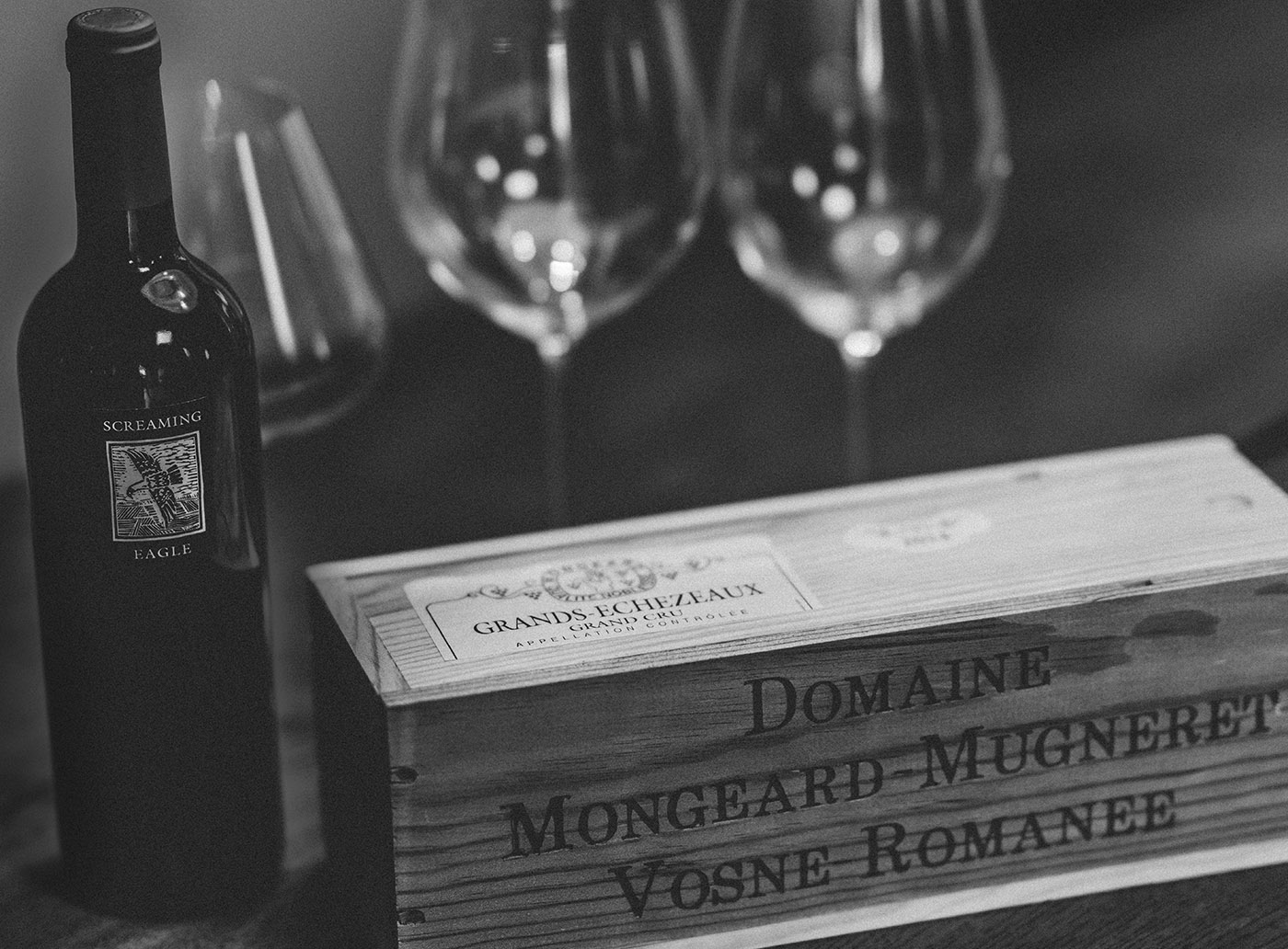 Though these wines are young and could easily be kept for many years in the cellar, it's important to note that this was primarily a glass tasting – not a wine tasting, and we didn't want to spend hours with an old wine, risking it to die in the process. An experienced taster knows how to distinguish between the natural development of the wine during a tasting, and the various expressions offered by each different glass. 
It's important to note that all of the featured glasses can be used for a large variety of wines: white, rose, champagne, or even spirits – your creativity sets the limit. Though you often get the best results by pouring a Bordeaux wine into a glass meant for Bordeaux, that doesn't mean it cannot beautifully present and express a Côtes du Rhône or a white Chablis.
We started the tasting with the Grands Echezeaux and took it all the way through the 7 different glasses. After a short break, we continued with the Screaming eagle.
The following elements have been rated from 1-5:
Enough foreplay – let's get to it! Presenting the first wine glass: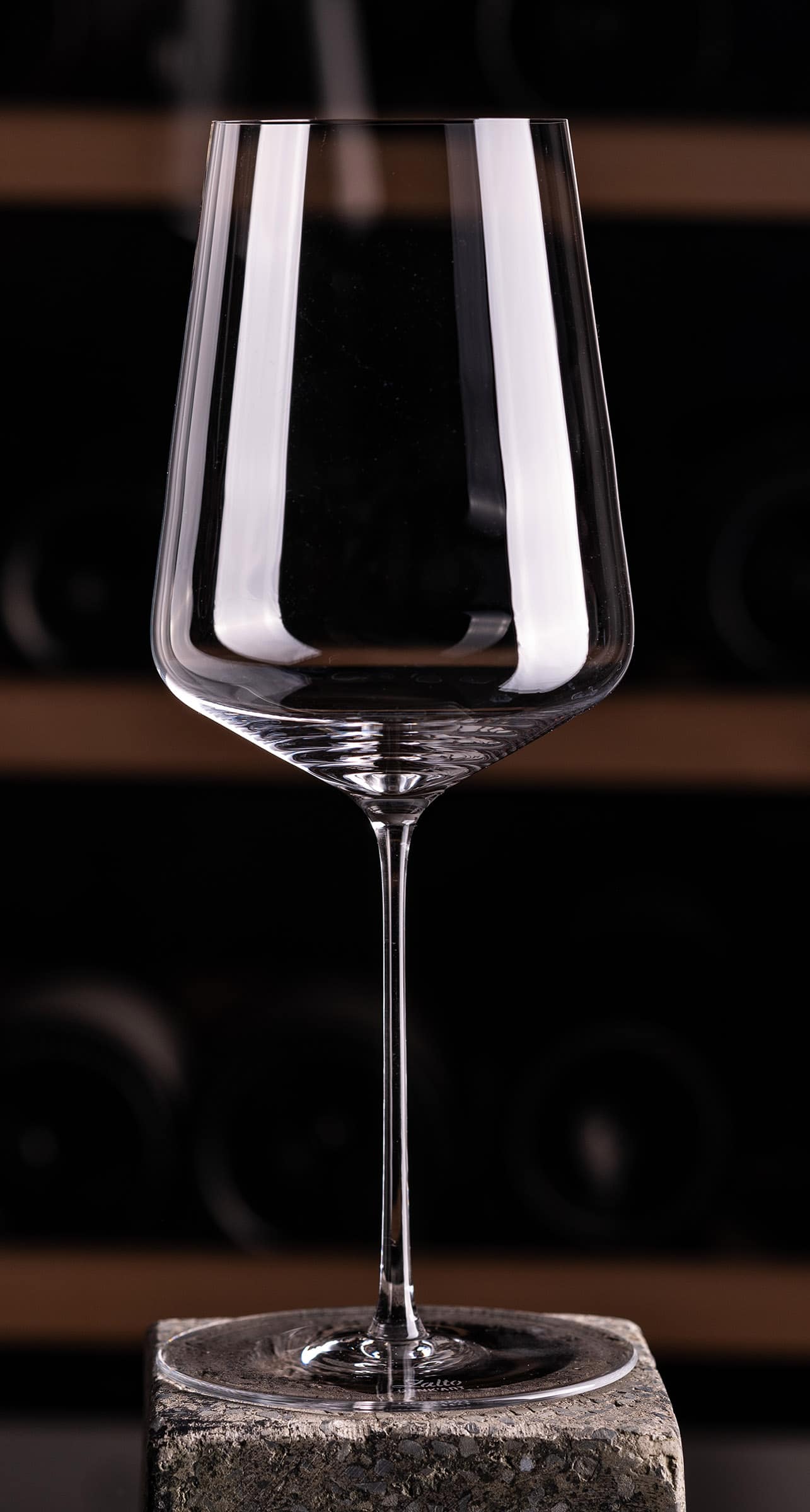 It is interesting to observe the reaction people have, the first time they see and pick up a Zalto glass. Ultra thin and light – the samples we used for the tasting weighed between 110-120 gram. Pretty impressive considering they are 23,5 cm tall and hold 530ml. Truly a pleasure to (be)hold!
1st round – Grands Echezeaux: Starting out with the Grands Echezeaux from Mongeard-Mugneret, the Universal glass gave us a nice show of fruit and berries.
You feel extremely close to the wine – I believe it might be as close as you can possibly get.
Very easy to handle and swirl – especially for the less experienced, due to the realtively normal size. However, the jury all agreed that a wine of this magnitude needs more room to maneuver. Though a fantastic glass, in this particular case it seemed like the Universal was kind of restraining the Grands Echezeaux more, than setting it free. That being said, the Universal glass from Zalto might actually be my go-to glass in the future, because it's not that often, that I get to enjoy huge wines like these at home. I honestly believe this glass can handle pretty much anything you throw at it.
2nd round – Screaming Eagle: Time for the super heavyweight to enter the stage.
First of all it's hard to be objective, when you know you have a wine like this waiting for you in the glass.
The Screaming Eagle is a true powerhouse. It bows to nobody, and opens up with a roundhouse kick to the face – thanks a lot!
At first I was actually wondering if there was something wrong with the wine – so dense, dark and heavy. That was not the case though – we just needed to recover from the culture shock, get back on the track and focus on the main characters of the evening – the glasses. The Universal glass from Zalto did a good job presenting the wine, though it seemed as if the bouquet would benefit from more space. The taste was excellent, and considering that the Universal glass was the smallest of the 7 featured glasses, I am very impressed with how it handled the Eagle.
Score chart for Zalto Denk'Art Universal (1-5):
Design / Look:  4,5
Feel / weight:  4,5
Gr. Echezeaux taste: 4
Gr. Echezeaux bouquet: 4
Screaming Eagle taste: 4
Screaming Eagle bouquet: 4,5
Riedel Sommeliers, Burgundy Grand Cru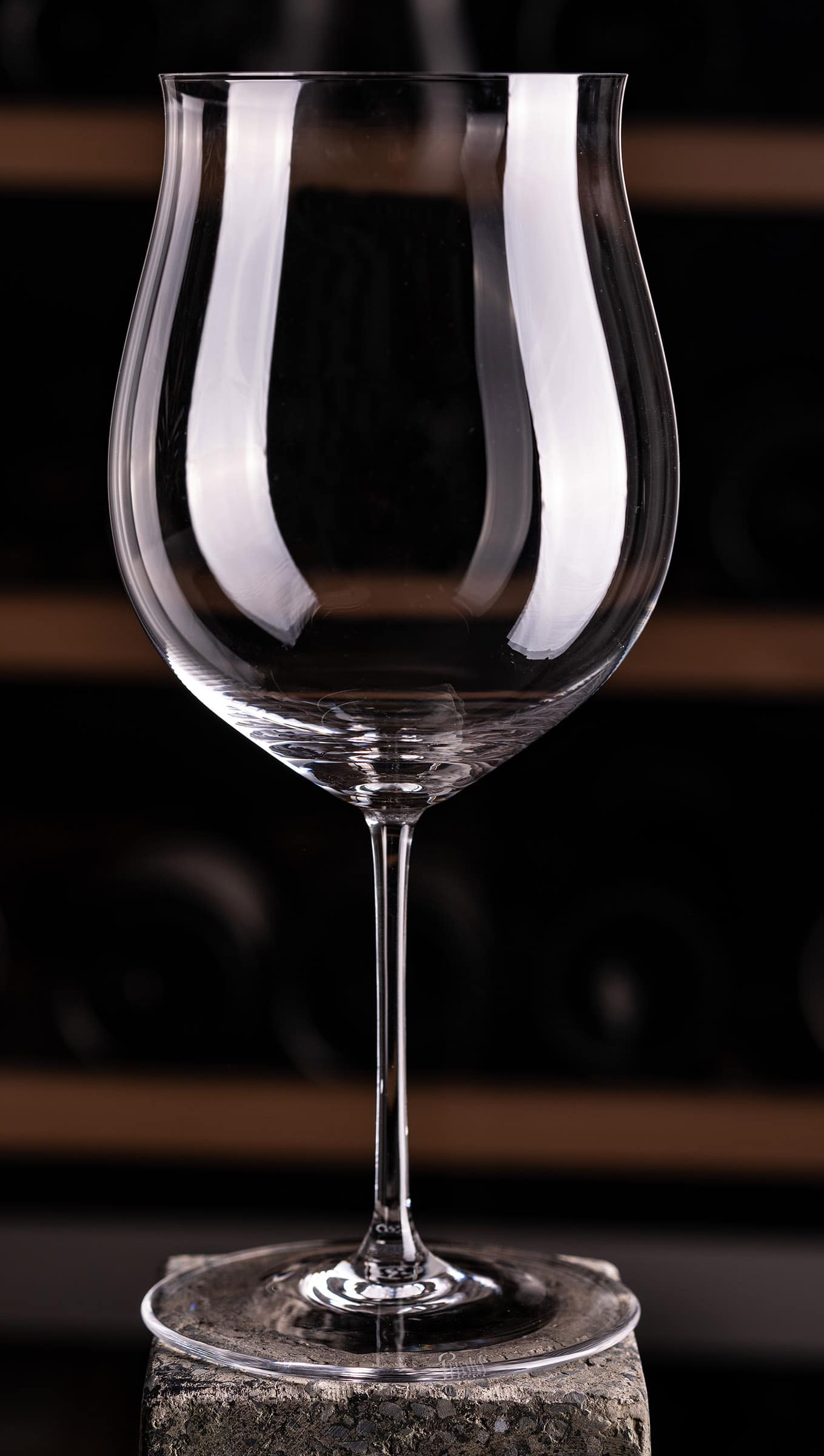 One of the most famous and easiest recognizable glasses in the world, is this piece of art, designed in 1958, but made famous when the Sommeliers series officially launched in 1973. After receiving worldwide recgnition, this glass has pleased its audience for more than 40 years (and me for about 15 years).
Isolated still a fantastic glass, but going head to head with the new kids on the block from both brands, the Sommeliers Burgundy Grand Cru split the jury's opinions. Though the design is beautiful and timeless, the glass looks a bit more "heavy and clunky" compared to the other contestants. One even called it a vase, so I threw in the blasphemy card, and threatened to exclude the person from the tasting 😄 This glass deserves the utmost respect. 24,8 cm tall and weighing +210 grams it is the heaviest of the lineup – but it also holds a whopping 1,05 liters!!
1st round – Grands Echezeaux: You immediately notice, that the wine is presented more airy and deep. It's a great match for the Grands Echezeaux, but it's not only the bouquet, that benefits from the large vessel. The taste is more silky and smooth – most likely due to the "acidity bumper" (the lip) of the Burgundy Grand Cru.
I'm very happy that one of my trusted companions stood up to the test today, and received good grades from the jury.
2nd round – Screaming Eagle: A cabernet in a Burgundy glass… Sure, why not? The Screaming Eagle performed better than expected in this glass with a more open bouquet, compared to the previous glass. I wouldn't say the taste was better, but we didn't quite agree on that in the jury. The Burgundy glass softened the taste a bit, and even though it tasted great, I personally like a good Cabernet to be a bit aggressive. I mean… you don't put velvet gloves on Hulk either – you just let him smash 😊
Score chart for Riedel Sommeliers, Burgundy Grand Cru (1-5):
Design / Look:  4,5
Feel / weight:  4
Gr. Echezeaux taste: 4,5
Gr. Echezeaux bouquet: 4,5
Screaming Eagle taste: 4,5
Screaming Eagle bouquet: 4,5
Riedel Superleggero, Burgundy Grand Cru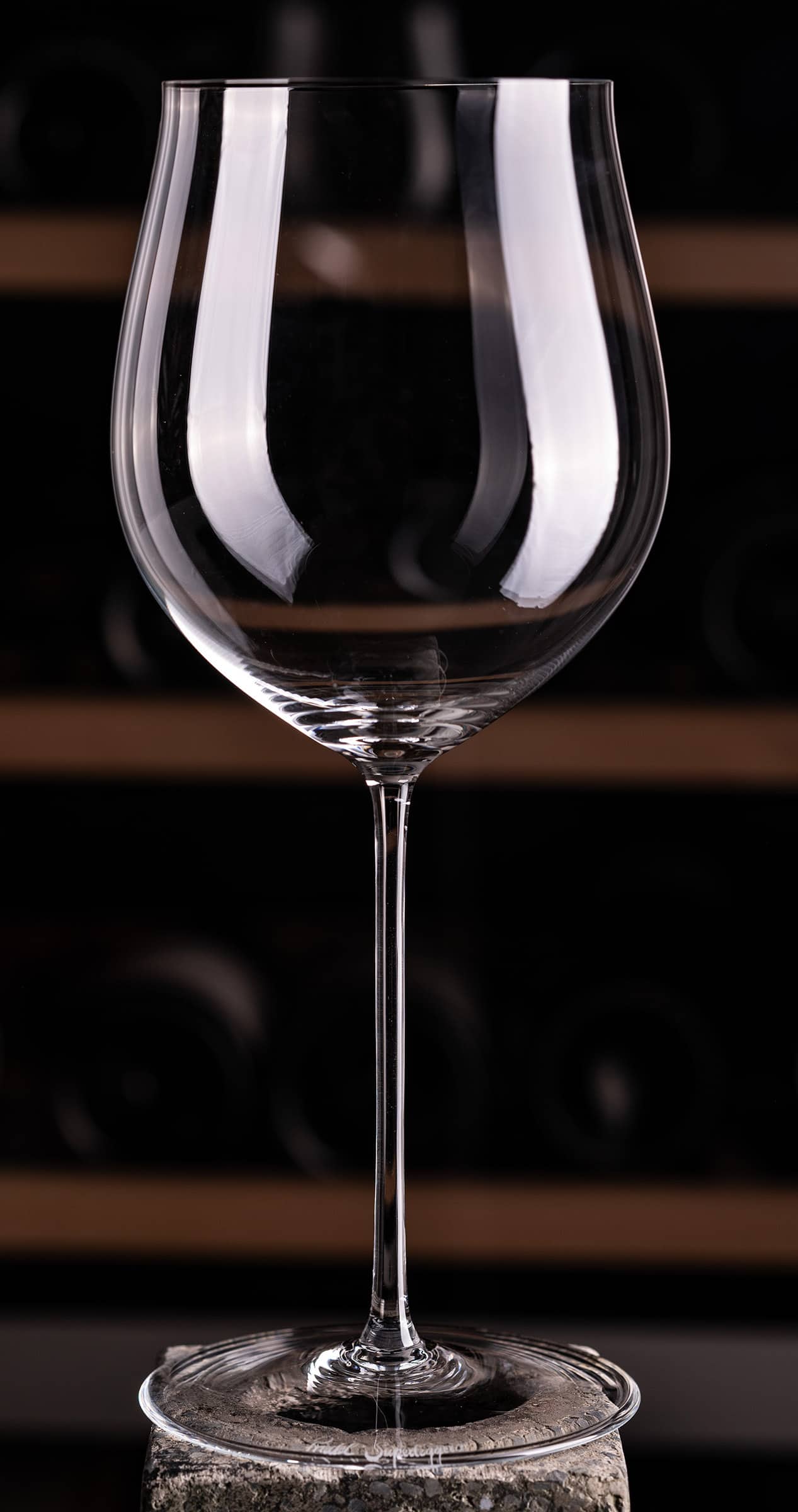 Superleggero means superlight and besides the astonishing aesthetics, that's exactly what this glass is. With the same insane +1 liter capacity, this glass measures 27,6 cm – almost 3 cm taller than the Sommeliers version, but the weight is only between 140-160 grams!!! I have no clue how they achieve this, but will happily accept an invitation to go see the production (*hint*).
A truly beautiful and well balanced glass. I bought them for this tasting, but I can guarantee these will forever be a fixed part of my collection. If you're not used to swirl a large wine glass, you might be a bit reluctant to pick this one up, but I encourage you to do it anyway.
1st round – Grands Echezeaux: I was super excited to see how this one would go down. Same style and shape, but more refined, lighter and elegant. Without a doubt, it was a different experience to pick this one up, compared to the Sommeliers series. Ultra light and with a great balance, it's much more easy to handle than it looks. With a bombardement of fruit, berries, damp earth and moss, The nose is even bigger and exceptionally clean. To the point where you are wondering, if the big opening of the glass actually blends too much air with the aromas of the wine. In the end though, we were all convinced that it was not the case. On the palate I imagine, that the glass performs exacIty how Vincent Mongeard would prefer it to present his wine; silky smooth, round and balanced. The Riedel Superleggero Burgundy Grand Cru is a fantastic match for any great Burgundy wine. The only downside is the price.
2nd round – Screaming Eagle: Since we previously saw an improvement from the Sommeliers to the Superleggero series, I was excited to see, if the same would happen with the Screaming Eagle. Though the wine is beautifully presented both concerning bouquet and taste, we only experienced a minor increase in the nose. A bit mixed in our opinions, overall the jury felt it opened up slightly, but not enough to increase the score. The Superleggero Burgundy Grand Cru might not be the perfect match for a big cabernet, but a 90% match will do just fine in most occasions – and it honestly did a great job with the Screaming Eagle.
Score chart for Riedel Superleggero, Burgundy Grand Cru (1-5):
Design / Look:  5
Feel / weight:  4,5
Gr. Echezeaux taste: 5
Gr. Echezeaux bouquet: 5
Screaming Eagle taste: 4,5
Screaming Eagle bouquet: 4,5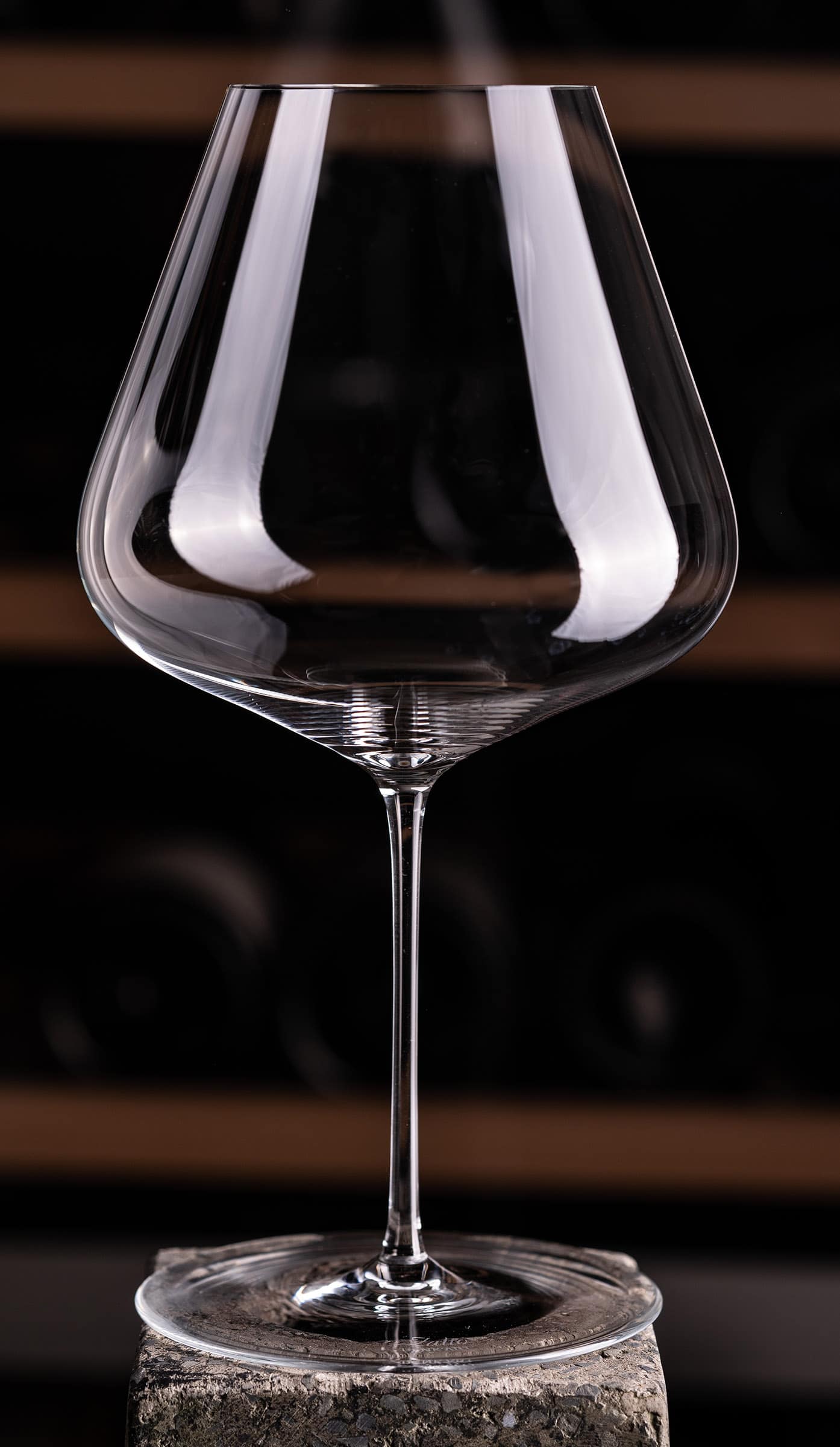 Back to Zalto again – we continue the tasting with the biggest glass from this amazing brand. This glass will wow any crowd – period!
23 cm tall and holding almost 1 liter, this glass is a treat for the eyes. Combine that with the weight of only 120 grams(!), and you have a glass that feels almost surreal to the touch. The stems of all the Zalto glasses are the thinnest I have come across, and it gives the glasses a supernatural (but also a bit fragile) look – I love it!
1st round – Grands Echezeaux: It was definitely not an easy task to enter the stage, after Riedel maxed out on the score chart with the Superleggero. However, it didn't seem to bother the Denk'Art Burgundy glass much. It's interesting that Riedel and Zalto have rather different beliefs regarding the design of their Burgundy glasses. Though differently shaped, both function incredibly well.
"This glass makes you feel super confident. It's the easiest thing in the world to swirl like a pro, and the Grands Echezeaux immediately felt like home."
The jury unanimously agreed that this glass was exceptional, and brought out the very best, the wine had to offer. Though a tad darker and more intense than the Superleggero, it comes down to personal taste, which style you prefer. The day after doing the tasting, I had to go back and put these two head to head again – pairing them with two other great Burgundy wines. The result was fantastic and mind boggling at the same time. They both present the wine differently, but it is simply impossible for me to choose, which one I like the most – so I have decided to pour myself two glasses in the future, when I'm enjoying a good bottle of Burgundy! 😄
2nd round – Screaming Eagle: Even before pouring this monster wine into the Zalto Burgundy bowl (with a relatively small opening), I knew this would be a hard hitting combo. A very powerful nose greets you instantly, when you approach the glass. It brought out great aromas, but also showed the alcohol more, than the other contestants. You have to be a bit more careful when using this glass with a powerful cabernet. You can definitely match the two, and get an amazing experience, but you have to know what you're doing – so I would advise you to go with one of the Bordeaux glasses instead.
Score chart for Zalto Denk'Art Burgundy (1-5):
Design / Look:  5
Feel / weight:  5
Gr. Echezeaux taste: 5
Gr. Echezeaux bouquet: 5
Screaming Eagle taste: 4
Screaming Eagle bouquet: 4,5
Riedel Sommeliers, Bordeaux Grand Cru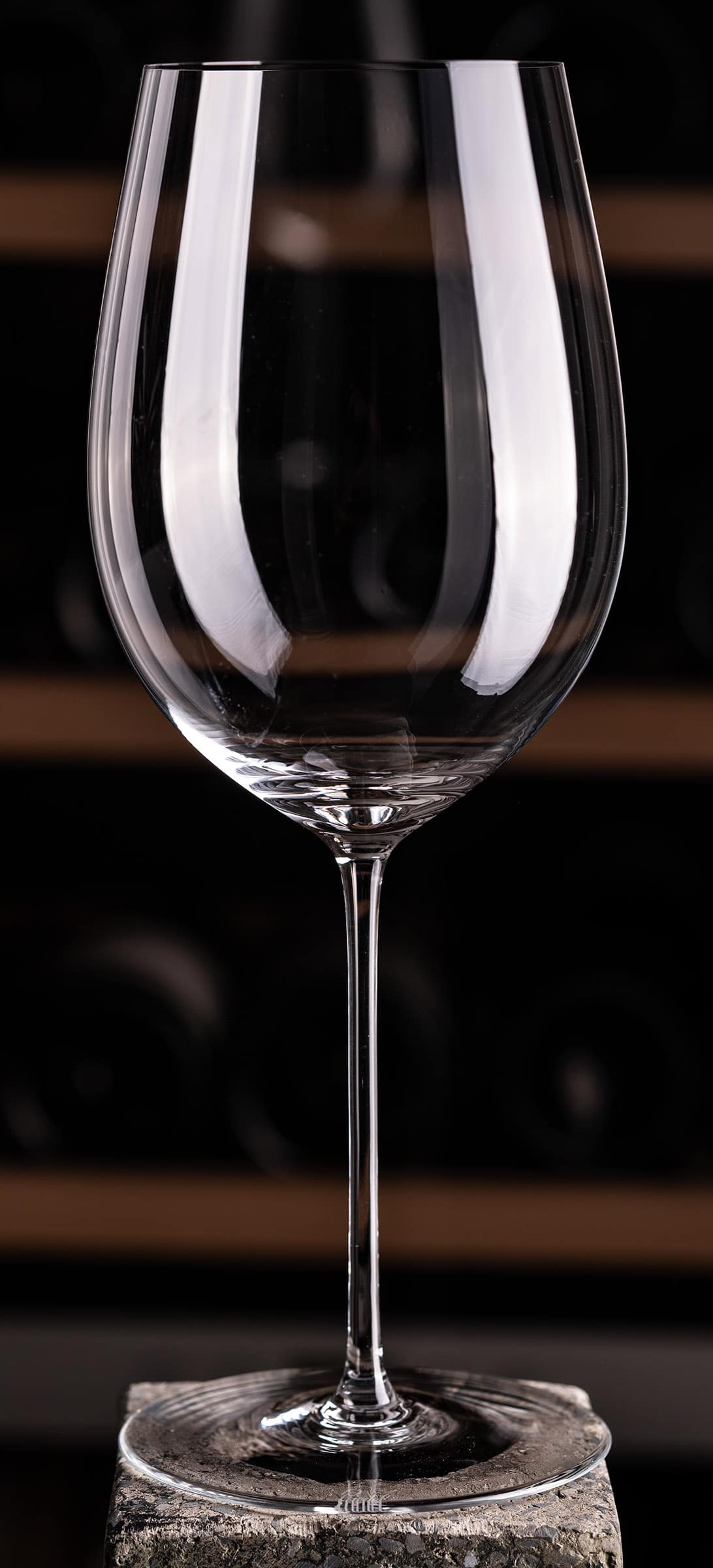 This one has been my go-to glass for several years, when I have enjoyed great wines. A classic and beautiful shape, this glass is a crowd pleaser, able to handle a large variation of wines.
Being 27 cm tall and holding more than 1 bottle of wine (860 ml) it is a big glass indeed, but the balance is great and it's easy to use. Though a few in my collection are below 180 grams, the glasses we used in the test were between 200-210 grams, since I believe the majority of you will find them in this weight class.
I spent a long time going through a lot of boxes at the stores, before selecting the glasses for my collection (thank you for your patience @ Karstadt Hamburg and Riedel @ Alsterhaus, Hamburg) 😊
1st round – Grands Echezeaux: The surprise of the tasting. The Sommeliers Bordeaux Grand Cru still delivered a very good fruity and pleasant experience, but it was as if the wine was somehow restrained a bit.
The bouquet was not as complex as in the previous Zalto glass, and it didn't really bring us all the way up close to the wine. I have had countless great experiences with this glass in the past – and though not my favourite Burgundy glass, it does portray the majority of them in a flattering way. But tonight – when it came to the Grands Echezeaux – this glass had to give way to the competition.
2nd round – Screaming Eagle: The Sommeliers Bordeaux Grand Cru was now on home ground, and (without a doubt) providing a more balanced and overall better experience with the cabernet wine, than the previous Zalto glass. This wine needs space in the opening of the glass, and I think the blend of air and wine aromas in this particular case is fantastic. A true pleasure to enjoy! Respect to the Riedel family for creating this masterpiece decades ago, and it is still equally relevant and wonderful to use today.
Score chart for Riedel Sommeliers, Bordeaux Grand Cru (1-5):
Design / Look:  4,5
Feel / weight:  4,5
Gr. Echezeaux taste: 4
Gr. Echezeaux bouquet: 4
Screaming Eagle taste: 4,5
Screaming Eagle bouquet: 5
Riedel Superleggero, Bordeaux Grand Cru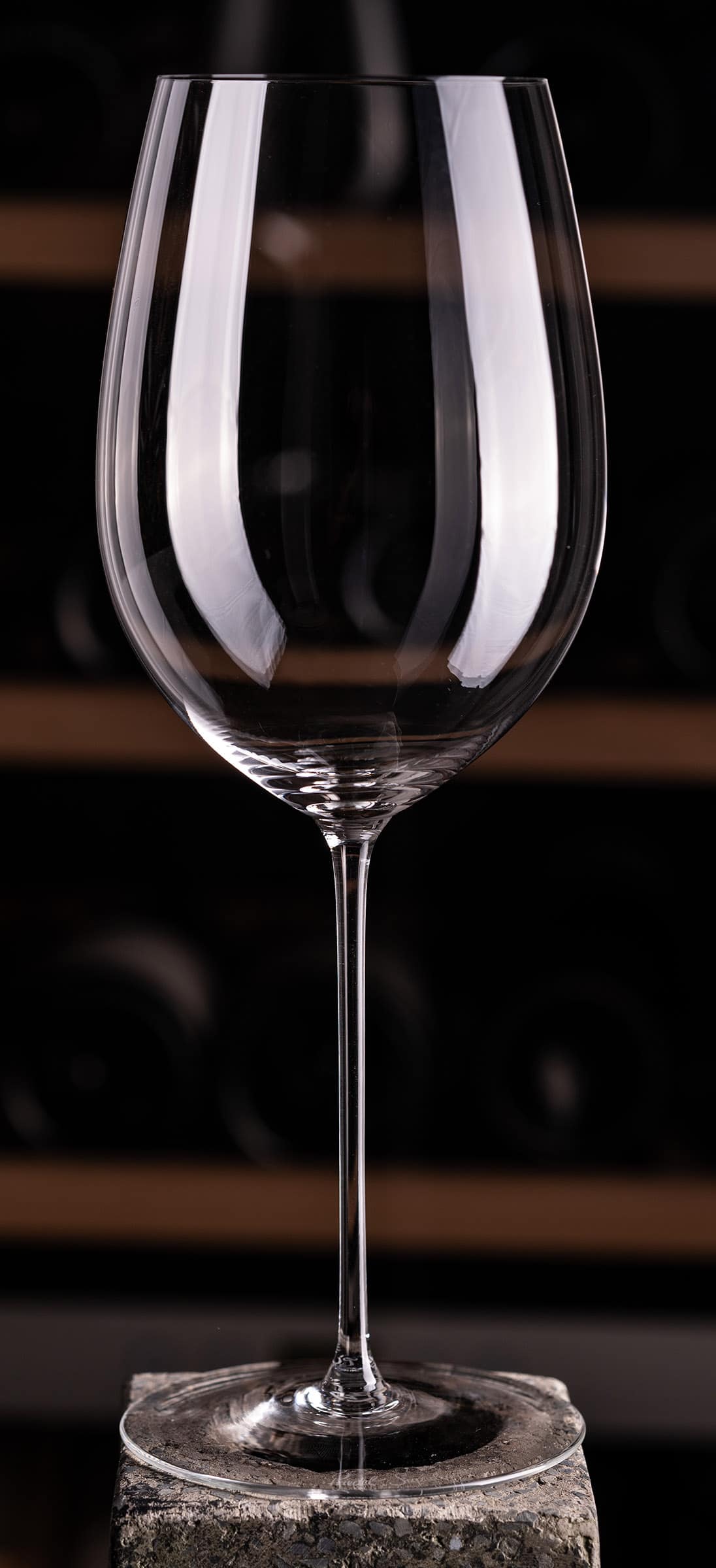 If the Sommeliers Bordeaux glass was a masterpiece, the Superleggero Bordeaux is the grandmaster (I'm not sure you can actually say that, but I just did). Towering at 28,2 cm (1.2 cm taller than the Sommeliers version) and holding 30 ml more – 890 ml in total, it is unbelievable how they managed to create this wonder weighing only 127 grams.
I remember the first time I picked up this glass. It was a few years ago at Harrods. My mind played a trick on me: was it plastic? Of course it wasn't, but you look for rational ways to explain, what you don't understand. It's incredibly balanced and beautiful to behold – I'm sorry for not adding this to my collection earlier. Now let's see how it performed.
1st round – Grands Echezeaux: With the shape being very similar to the Sommeliers version, we expected it to perform roughly the same concerning taste and bouquet, but the Superleggero delivered the second surprise of the event – and it was immediate.
"The bouquet is back! Fantastic nose – a step up for sure."
We had to go forth and back a few times – could this really be true? The jury unanimously agreed, that the Superleggero Bordeaux did a better job with the Grands Echezeaux than the Sommeliers Bordeaux – coming very close to the Zalto Burgundy and Riedel Superleggero Burgundy glasses. Though with a different expression, it was overall a great experience!
2nd round – Screaming Eagle: Proceeding with the cult wine, this should be a perfect match for the Superleggero Bordeaux Grand Cru glass. You can actually just remove the "should" part, because it IS a perfect match! Though the wine was still young, the glass did a tremendous job of showing the very best parts of the Screaming Eagle. Superb balance and control – an intimate experience, and overall just a bit better on all parameters. This is without a doubt one of the best wine glasses in the world to handle bordeaux-type wines (and many other for that matter). If we should describe this experience with one word it would be: Amazing!
Score chart for Riedel Superleggero, Bordeaux Grand Cru (1-5):
Design / Look:  5
Feel / weight:  5
Gr. Echezeaux taste: 4,5
Gr. Echezeaux bouquet: 4,5
Screaming Eagle taste: 5
Screaming Eagle bouquet: 5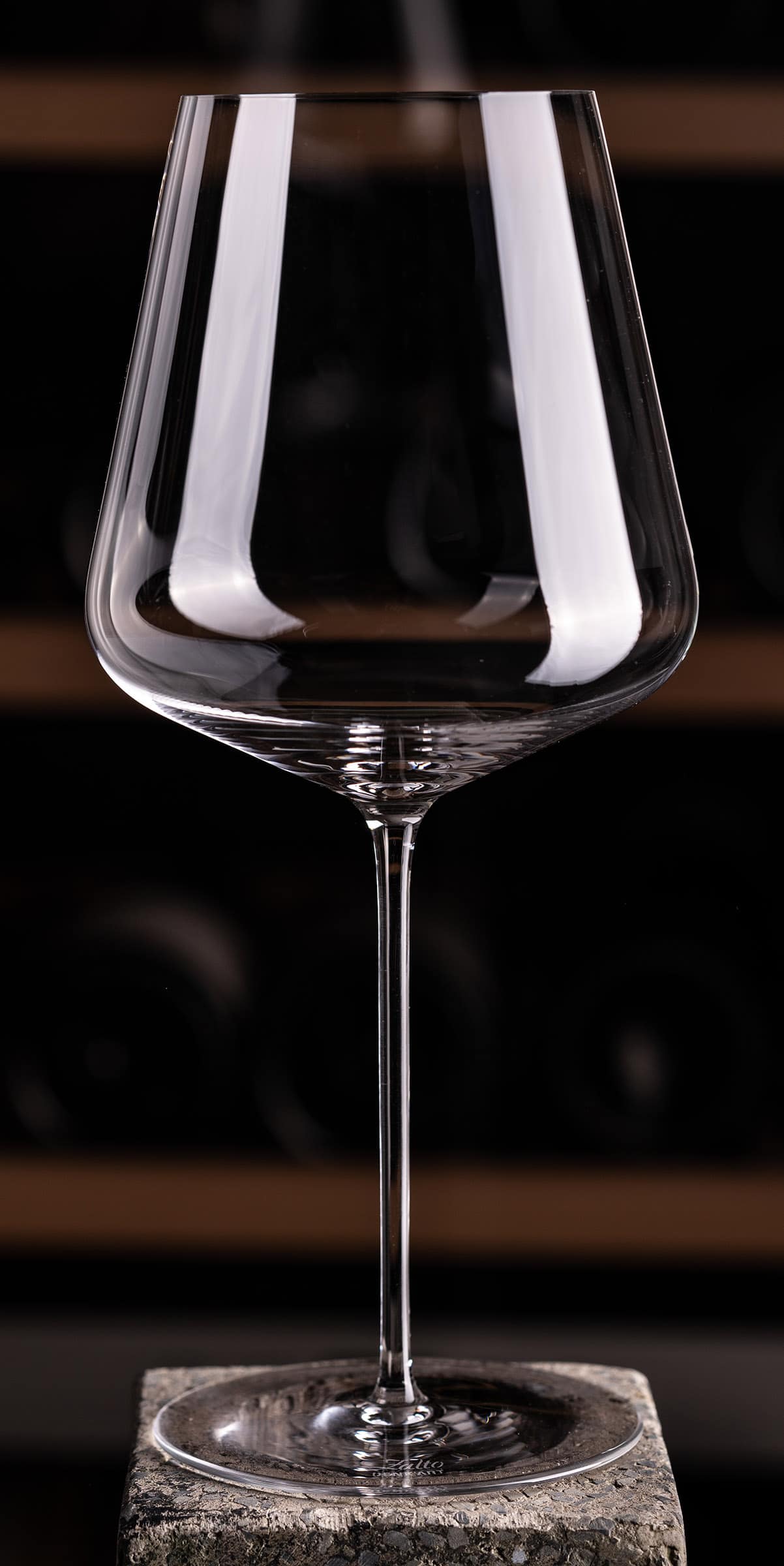 Coming to the end of the tasting, Zalto is again put to the test, just after Riedel scored a home-run with the Superleggero Bordeaux. But just as with the previous Zalto contestant, it didn't seem to bother neither glass nor jury.
As with all other glasses in the Denk'Art series, this glass is a piece of art. 24 cm tall and with the capacity to hold more than a bottle of wine (765 ml), our glasses for this tasting weighed only between 120-130 grams.
Very easy to use and swirl, this glass is a timeless piece of stemware, that will impress your guests, and look impeccable on any table setting. 
1st round – Grands Echezeaux: An amazing bouquet of fruits and berries. Though a tad lighter than in the Zalto Burgundy glass, it really does a fantastic job of expressing the character of the wine. Compared to the previous glass (the Riedel Superleggero Bordeaux), you get a bit closer to the wine – most likely due to the size, and though they receive the same rating, I personally have a tiny preference towards the Zalto glass for this particular wine.
The jury was thrilled, and the Zalto Bordeaux glass proved, that it can definitely handle a great pinot noir as well.
2nd round – Screaming Eagle: Finishing off the tasting in style, pairing the best from California with some of the best stemware from Austria – I was curious to see if the Denk'Art Bordeaux could tame this bird. Putting the nose in the glass confirmed my initial thoughts:
"The Eagle has landed".
A bit smaller than its Riedel counterpart, but the Zalto Denk'Art Bordeaux showed an incredible control over the wine. It's like there is almost nothing between you and the wine. Powerful & potent, yet so pure, clean and elegant, the jury was mesmerized by this experience. I'm struggling with a way to describe this, but allow me to try: It would be wrong to say that the Zalto Bordeaux glass kept the Eagle on a leash. However, it didn't fly away either. And why would it? It's exactly where it belongs. 
Score chart for Zalto Denk'Art Bordeaux (1-5):
Design / Look:  5
Feel / weight:  5
Gr. Echezeaux taste: 4,5
Gr. Echezeaux bouquet: 4,5
Screaming Eagle taste: 5
Screaming Eagle bouquet: 5
Verdict: so which one is the world's best wine glass?
This legendary tasting has been absolutely mind-blowingly good! Definitely a day I will never forget, with a lot of valuable learnings. As expected all the featured glasses performed close to perfection, but they each had their strengths, depending on which wine they were presenting. Therefore it is impossible to declare a clear winner. (UPDATE): However, after having owned these glasses for quite some time, the two glasses I always pick first when opening a bottle of wine, are mostly the Zalto Burgundy and the Riedel Superleggero Bordeaux Grand Cru. They're just so incredibly beautiful and a true pleasure to use.
Riedel and Zalto have made enormous efforts to develop and produce the perfect stemware, which enhances the experience when drinking different types of wine. And they have succeeded! Their Bordeaux glasses are truly the perfect match for Bordeaux type of wines, and likewise with the Burgundy glasses. But they will do wonders for any wine! Especially if you upgrade from "average" stemware. What surprises me though, is that even if they express the wine differently, all of them do an amazing job – each in their own unique way.
"Mozart or Beethoven? Riedel or Zalto? Why choose one, when you can enjoy both on a regular basis?"
The only downside is the capital you have to invest in your glass collection, but come on… If you enjoy wine, this is not something you should need to think twice about. These glasses will follow you and spoil you with fantastic wine experiences until the end of days.
Last note – important regarding cleaning:
All the glasses are dishwasher safe, but I would strongly suggest you clean them the old manual way, to avoid any stripes or spots. It's actually the best and most important advice I can give. Buy the Riedel Microfibre cloth and never ever use it for anything else than drying / polishing your glasses. Next time you use the normal kitchen cloth to clean your glasses, try taking a quick smell after you're done. If the cloth is not 100% clean, chances are the stemware will smell horrible (no, I'm not exaggerating).
"Cleaning your wine glasses requires hard work, patience, and persistence. We're talking Karate Kid "wax on, wax off" kind of persistence."
I personally like to take good care of my stemware. It's a de-stressing exercise, and you know that you can always reach out for a perfectly polished, clean, and presentable glass when you need it.
That's it for now. I hope you enjoyed reading the article as much as I did creating it. If you have any questions, you are always more than welcome to contact me on mail or social media.
I wish all of you lots of memorable wine experiences in the future – cheers!
/Per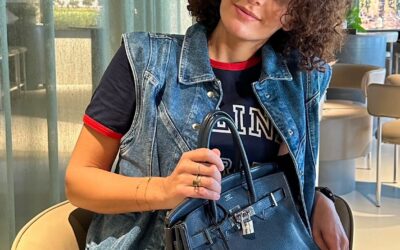 A luxury bag is not just a fashion accessory; it's an investment that deserves proper care and attention to ensure its longevity and pristine condition.
read more