A day (or two) of luxury and fashion!
So you want more than just sun, tapas and sangria? Great, because Barcelona is not only famous for its beach, palm trees and Gaudi's amazing architecture! If you want the perfect shopping day (and a bit of sightseeing), follow our little guide to, what we consider, some of the best places, this amazing city has to offer!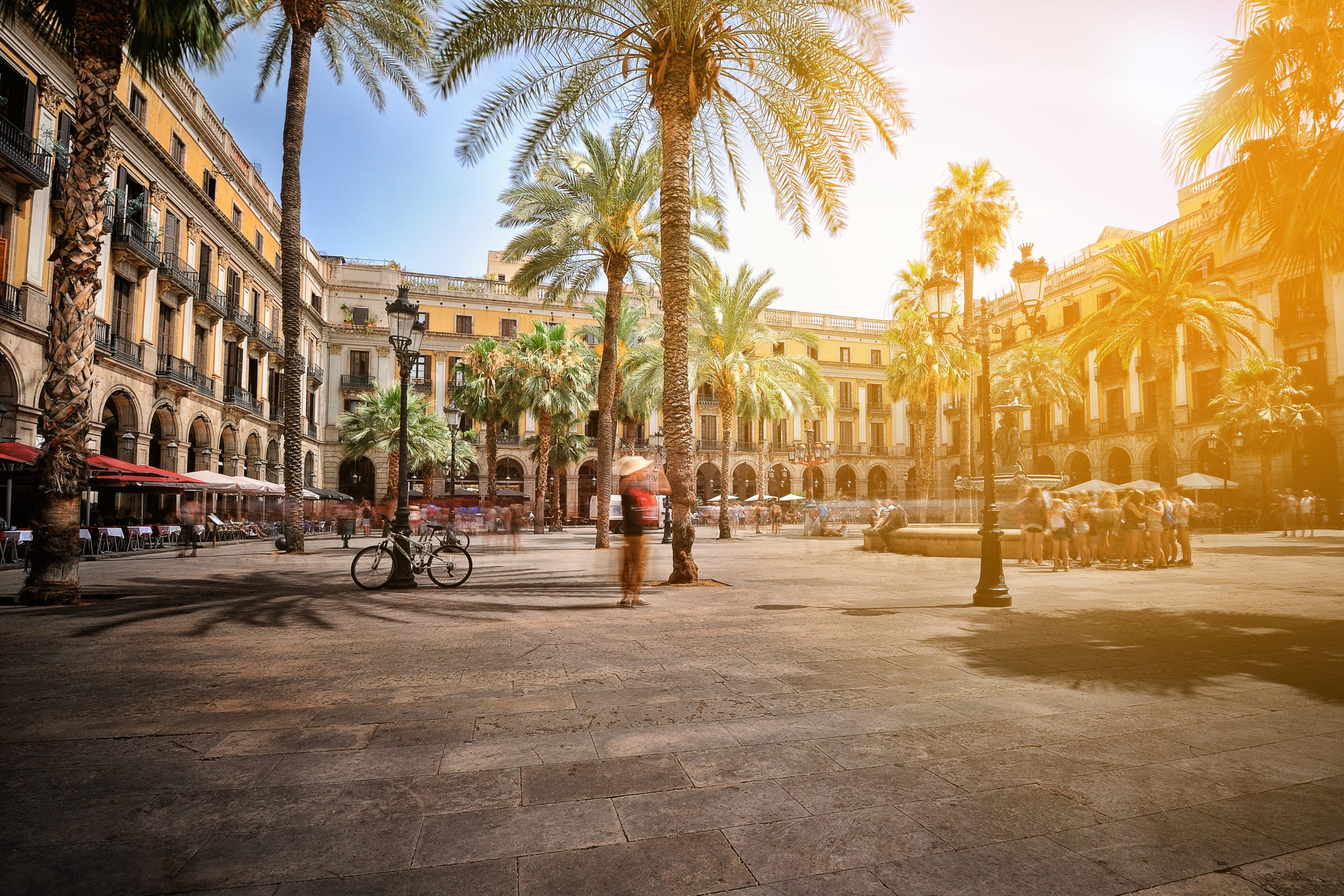 You probably know it, the Spanish timetable is different. Shops open and close late (around 10:30-11:00am), so no need to rush out of bed too early!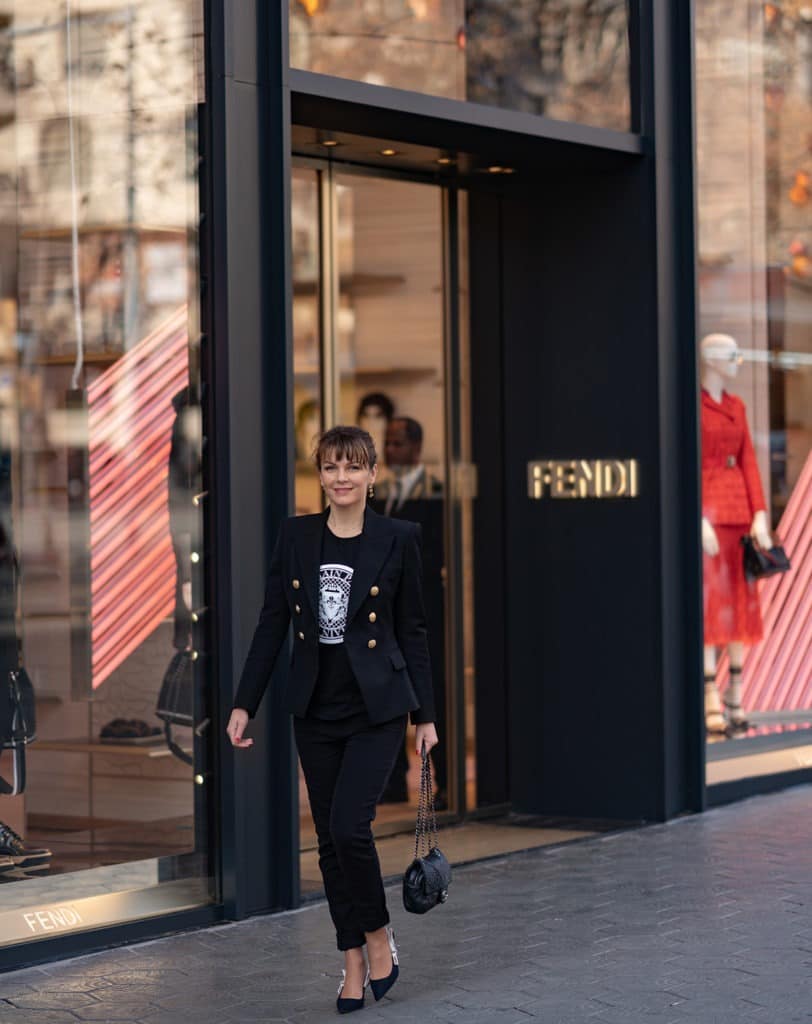 However, you need to save some energy for the discreet boutique of Santa Eulalia at number 93.
It's the fashion designer addict's paradise!!! For both ladies and gentlemen, they have two floors of Louboutin, Balmain, Givenchy, Balenciaga, Valentino, Loro Piana and other very desirable luxury brands – just there waiting for you. The staff is very welcoming and super service minded – without being pushy. There is quite a lot to see and try here – so be prepared to spend some extra time!
One last thing: they have a very talented in-house tailor, and you can see him in action through a glass wall at the lower ground floor (see picture). Very fascinating – it's like stepping back in time. Smaller adjustments will either be made on the spot or within a few hours.
If you go Just a little bit more down, you will discover the new Fendi flagship store, recently opened in October 2018. It's the only Fendi shop in Spain, and with a total space of 600 square meters, dedicated to the double F, you'll hopefully find something (most likely a lot) you like.
The entire street of Passeig de Gracia is dedicated to luxury shopping! Prada, Louis Vuitton, Burberry (one of the biggest Burberry shops in the world), Versace, Cartier, Hermes, La Perla, Chanel, Gucci,… they are all here.
Passeig de Gracia is the place to go – the holy grail of shopping, since all your luxury desires live side by side on the same street! I recommend you to start up at the top of this famous avenue, by Saint Laurent at number 102 – before you work your way down towards Place de Catalunya. The Saint Laurent boutique has been renovated inside with their famous grey marble, and re-opened in 2017. If you are a regular customer, they always have private sales before the opening of the official ones 😉
A short stroll down – on the other side of the street, you will find Jimmy Choo at number 97 (quite a large boutique). I wanted to write something fancy about this shop, but it's not really needed. Just obey the following rule of thumb: every time you see a Jimmy Choo store – go in (easy peasy)!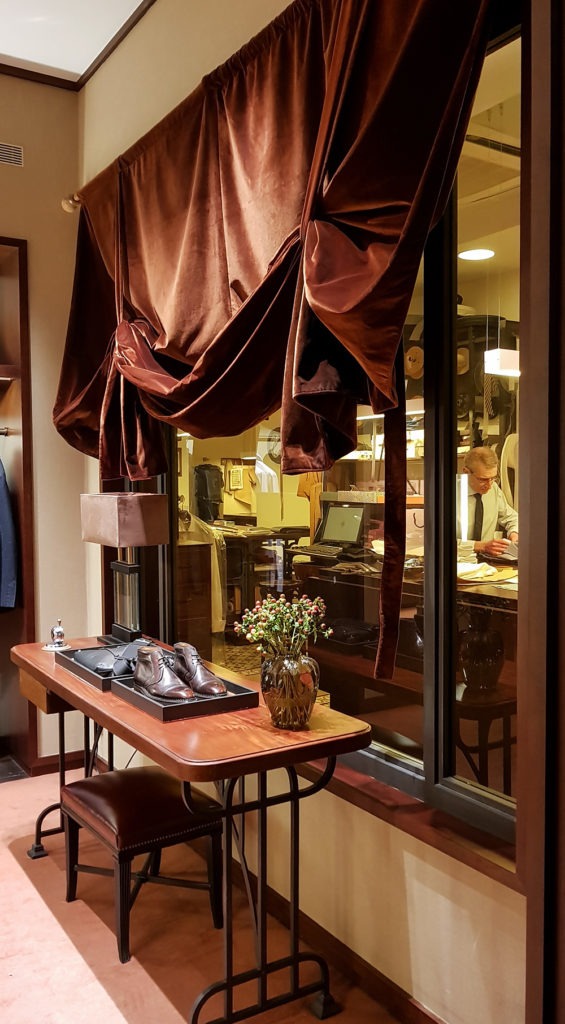 Pro shopper tip:
Lunch first – Christian Dior aftwards!
Why? Because while you try / browse the new collection, they will offer you coffee (unless you prefer champagne?) and their amazing macarons – freshly delivered from Paris! This is soooo VIP!
Looking for an exclusive perfume or cosmetics?
Then here's a quick tip for you: go to Regia at number 39 – they have the best selection!
The shopping spree can perfectly be finished at Corte Ingles, located at plaza de Catalunya. Though they don't carry all of the absolute top tier fashion brands – they do have loads of them represented – and they have a fantastic range of cosmetic and beauty products on the ground floor. Furthermore they have a lot of luxury and high-end brands when it comes to home interior. Check it out but be aware that you can easily spend several hours in there. In case of very excessive shopping, a taxi station is just outside.
Quick 'n tasty lunch advice:
If you're with your partner and / or friends, and can't decide on which cuisine to have for lunch, we can highly recommend to visit the restaurant on the top floor of Corte Ingles at Placa Catalunya. There you will find pretty much any type of food you can imagine, and everything is freshly made. Super tasty, very affordable (great if you just spent the monthly budget at Chanel), but most importantly: the view over the city is absolutely incredible! You'll agree with me, when you see it.
Barcelona is also famous for its selection of quality outlets, and Burberry is one of them. If you don't mind buying previous collections, then you can go to Carrer Valencia 640 (10 minutes drive from Passeig de Gracia). They have a great selection of ready-to-wear pieces for men and women, and also a bit of accessories (mostly scarves and bags). Prices are quite attractive – an average discount of -50%, but can reach -70% on some items!
You have some time available? Then you should definitely go to the big outlet La Rocca Village! Only roughly half an hour drive from Barcelona city center, La Rocca boasts an impressive amount of luxury and regular brands with very attractive prices (more than 140 boutiques including Burberry, Etro, Gucci, Jimmy Choo, La Perla, Prada, Moncler etc.) Register online to be member of the club, and you might receive some extra discount codes for your shopping day!
You can book a round trip for 20€ with the Shopping Express shuttle, or you can opt for a private chaffeur from €192.
Believe us when we say it's a fantastic place to visit, and if you spend a bit of extra cash in some of the stores (different limits), they'll give you a voucher for the VIP lounge, where a large selection of snacks and drinks are free – in quiet luxury surroundings. Suite Life approves! 🙂
(or go all-in with 3 Michelin stars)
Shopping is hard work, so you of course have to remember to replenish your energy levels 😄 Just a few meters after the Louis Vuitton store, on carrer de Mallorca, the Alma hotel is my favourite stop for either champagne or cappuccino. They have an amazing secret garden where you can relax all afternoon if you please, after a great lunch on the terrace.
If the weather is not on the bright side, you can walk the opposite direction of the same street and go to Lasarte, one of currently two 3-star Michelin restaurants in Barcelona! However, keep in mind, that you will need a booking to access, but more importantly; if you try the degustation menu, you will need some time to recover – means no more energy for shopping (I tried, trust me). But it's DE-LI-CIOUS!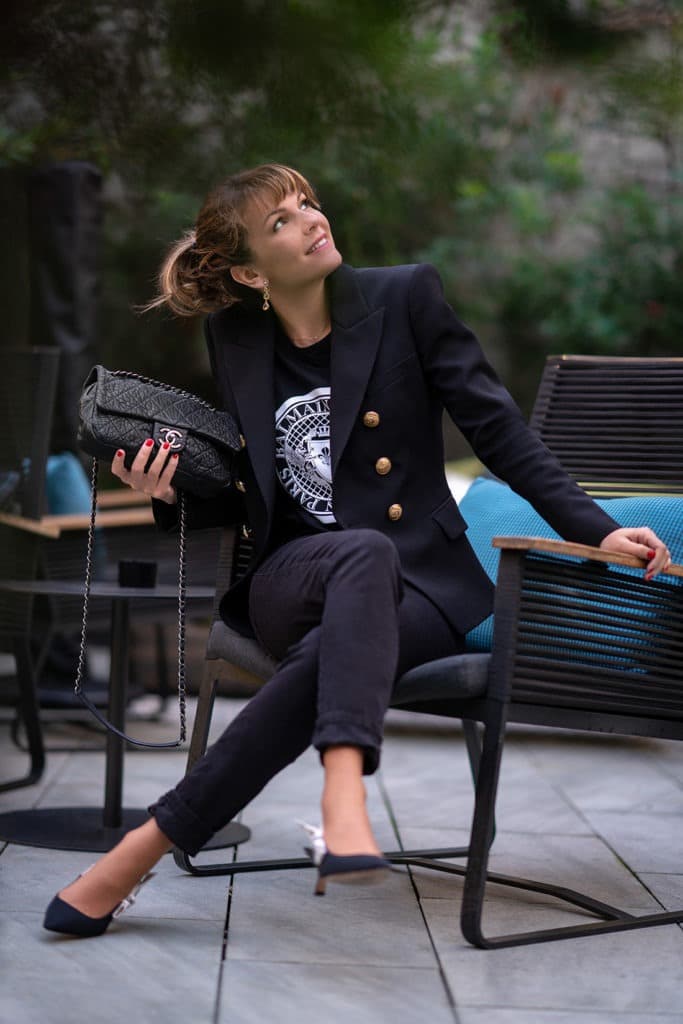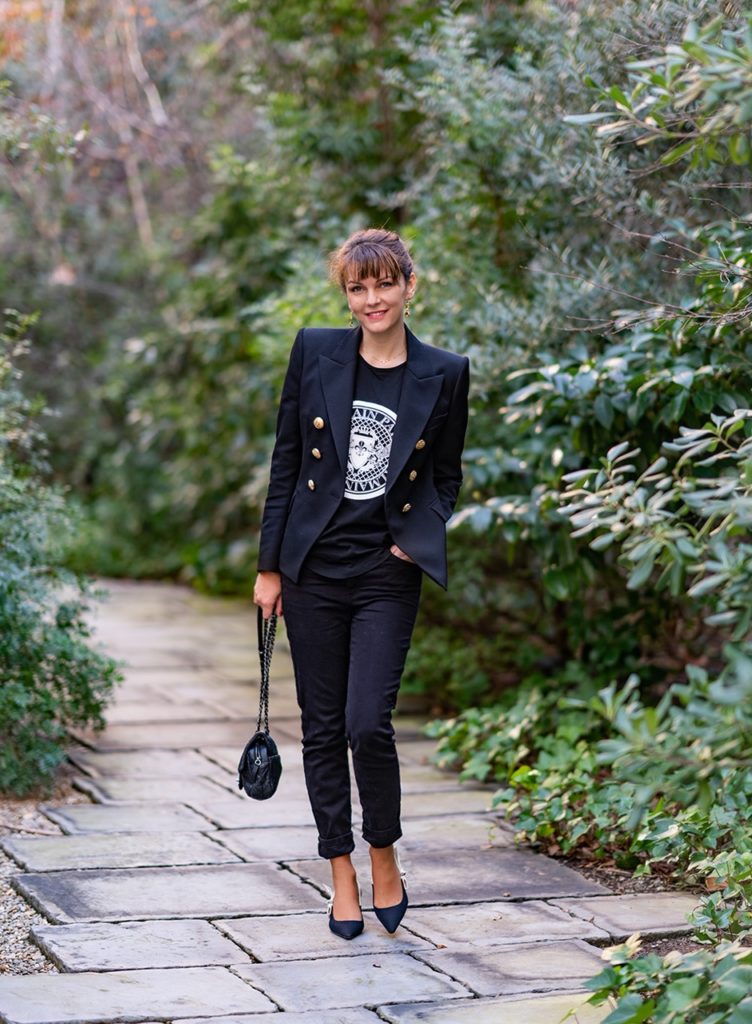 Other alternatives:
Fancy a cocktail by the sun in a luxury colonial style, or some fine Mediterranean cuisine? Hotel Claris roof top restaurant is a great choice and extremely well located! You need to try the crazy delicious red fruits Mojito!! The hotel also has a fantastic chinese restaurant, Mr Kao with some of the best dim sum of the city!
Need seaview? With a cocktail in hand, of course. Then it doesn't get much better than the iconic five star W Hotel! From the beach club restaurant "Salt" at the ground floor, to the roof top bar club "Eclipse", everything is made with the intention for you to have a great time. The view from the top is second to none!
And speaking of views, Barcelona has an incredible number of great roof tops! We recently stayed at the newest 5-star hotel in town, The Barcelona Edition. On the 10th floor you will find "The Roof", a fantastic bar with panoramic views over the city. Very popular, even during winter! Bonus info: the hotel hosts an amazing cabaret show including dinner and drinks in the basement level (-2). A fabulous show – sexy and burlesque – we highly recommend it!!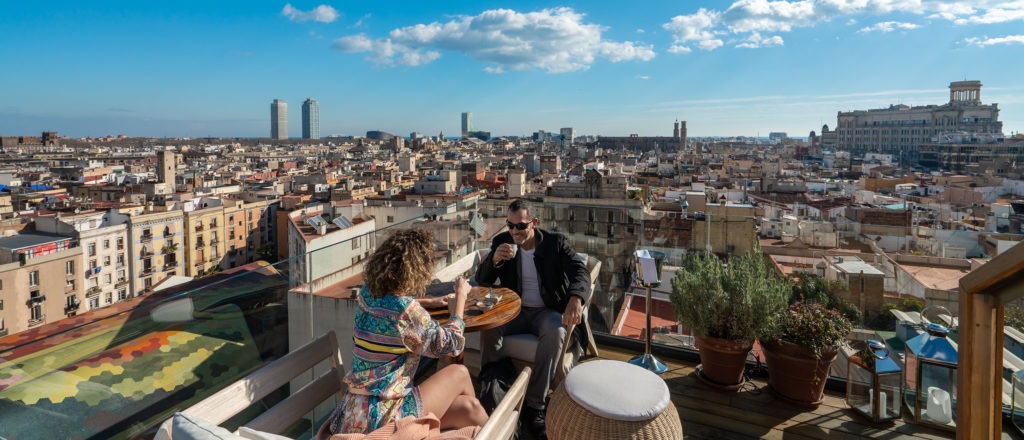 Final feeding tip: we like to go to El Nacional as well because it's such a nice and original environment! 4 different restaurants and 4 different bars for different culinary experiences in the same "gallery style" space. Go early because it's really popular.
3 SHARP CULTURE EXPERIENCES YOU WON'T FORGET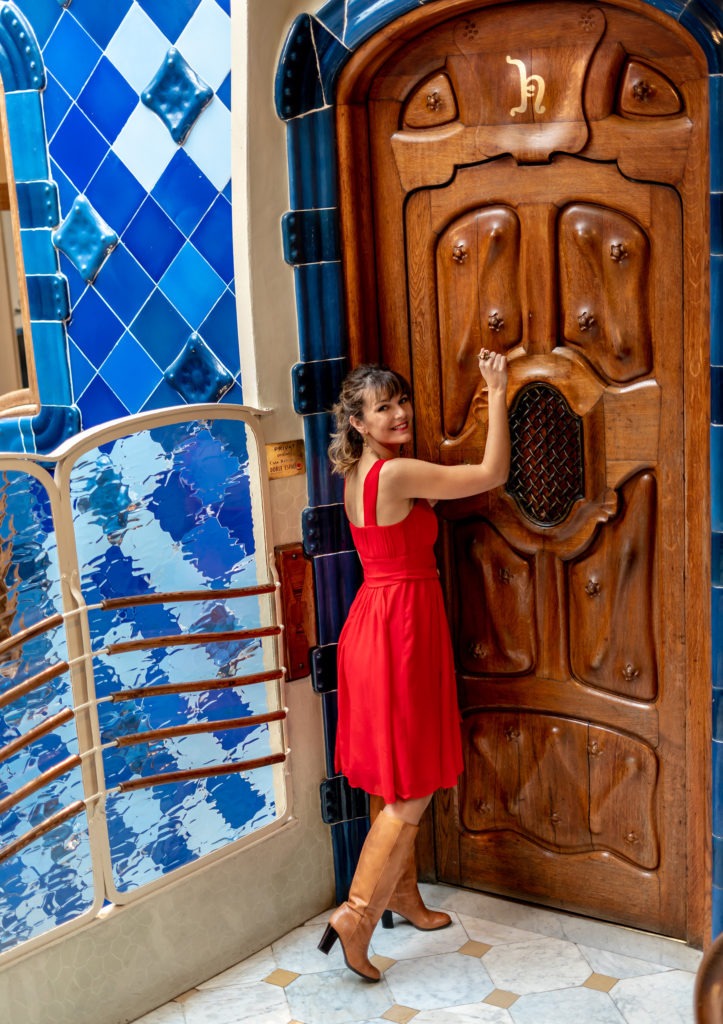 It's impossible to be in Barcelona without noticing Gaudi's incredible artwork and designs!
If you are on Passeig de Gracia, you need to discover Casa Batlló, which is one of Gaudis most famous creations… The entry is €25 to access this fascinating house, but if you want to avoid the crowd of tourists, you can actually book an exclusive VIP entry during the morning, before they officially open the doors. Starting everyday at 8:30am, click here for more information.
The internationally famous Sagrada Familia doesn't need any introduction, and must be visited no matter what, even if your stay in Barcelona is very short! I suggest to go in the afternoon, when the light is shining through the colourful windows from the side, for a real magical experience. Ask for the audio guide, Gaudi's work and life are really well explained. Remember to book tickets in advance!!! They are often sold out days in advance.
In Barcelonas old gothic quarter, we discovered the Palau Dalmases a few years ago, and we have attended the show numerous times. A small and cozy baroque house, where the Flamenco will enchant your heart with passion and guitars! This experience is worth a detour and the authentic and intimate show (only around 30-40 guests as the stage is small) is definitely a must-see. I think I would go as far, as to call it my favourite show in the world!!
There are quite a few great luxury hotels in Barcelona's city center. Below is a list of the very best and most exclusive: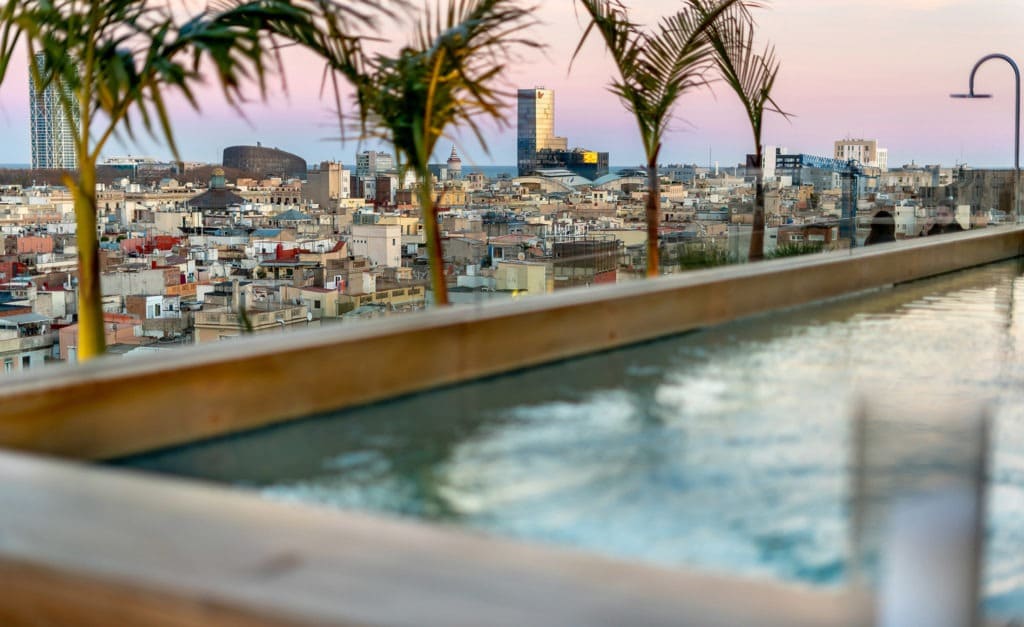 Are you planning a trip to Barcelona, but still have some doubts or some questions? Don't hesitate to send me an email, and I will do my best to help you out 😊
Thanks for reading – cheers!
/Elo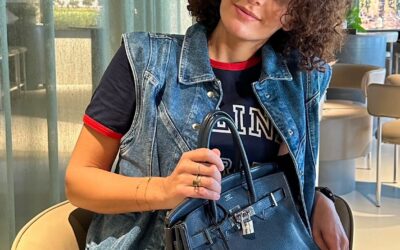 How to take care of your luxury bagJune 2023 Taking Care of Your Luxury Bag: Essential Tips for Longevity and Maintenance A luxury bag is not just a fashion accessory; it's an investment that deserves proper care and attention to ensure its longevity and pristine...