If you don't know this italian high-end brand, now is the time to get a cup of coffee, put on the "do not disturb" sign for a couple of minutes, lean back and read on.
Truly a gem in the fashion world, known only to the people who value sartorial craftmanship & high quality fabrics above all else. Combine that with an extremely high service level, and you have the reason why Brioni is the go-to brand for head of states, hollywood actors, CEO's and everyone else, who are willing to shell out the cash, to add a permanent piece to their wardrobe.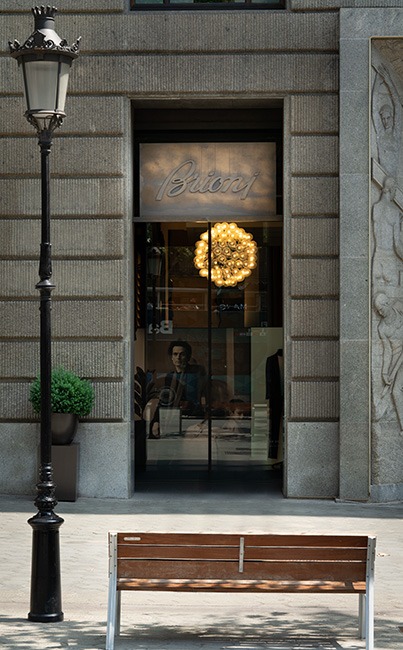 The first Brioni shop opened it's doors in Rome in1945, but the manufacturing has been taking place in Penne, Italy, since 1959 – educating and employing only master tailors of the highest level. Each of them carrying out not even a handful of different tasks throughout their careers, to ensure impeccable quality and keeping their tailoring skills second to none.
If somebody told me, that he's been sewing button holes for the last 30 years, I would find it difficult to come up with an appropriate and comforting response. However, if that guy happens to work for Brioni, it's a different case. In the fashion industry he would be considered an artist – honoured to be part of a unique society. The next time you get the chance to visit Brioni, you will know what I mean, when you get to see and feel the finished products.
Sadly I have not had the privilege to visit the manufacturing facilities, which is for a select few, but from what I've heard, it's quite an experience – and as the Store Manager in Barcelona said:
"You can literally hear a needle drop on the floor in the workshop". Everything is made by hand."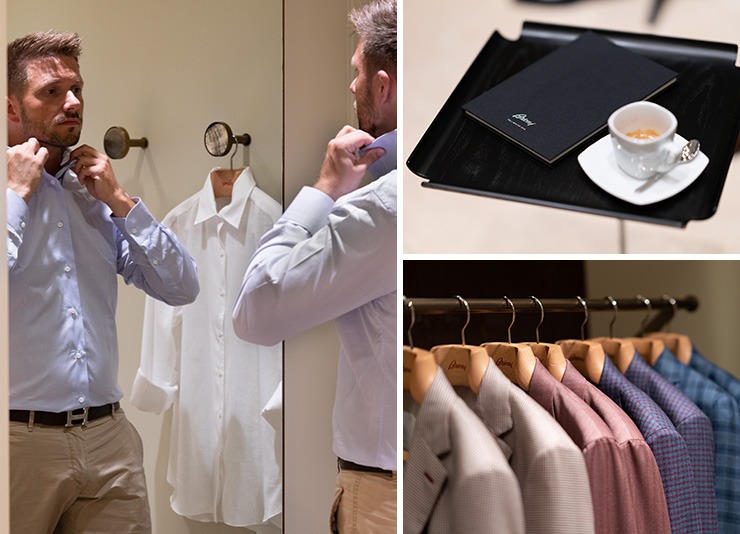 Ok maybe not a whole day, but they certainly do their best to make you feel welcome and relaxed – making it nearly impossible for Elo to drag me out of the store 🙂
Located just next to the Mandarin Oriental, with a facade not screaming for attention (unlike most other shops on Paseig de Gràcia), the staff is always ready to open the door and welcome you.
"You feel more like a guest, than a customer"
Water, coffee, champagne – everything is on the house, when you are browsing their collections.
You won't find endless racks of cluttered clothes here. The store is designed to give every piece the space and attention it deserves, and to give guests the privacy to study the details and inspect the fabrics.
I had a chance to try out a Giza 45 cotton shirt (if you don't know what Giza 45 is, you can read more about it here). An absolutely beautiful shirt, but judging by the looks alone, it's hard to justify paying +€800 for a shirt off the rack. However, when you wear it, you suddenly start to make up reasons, to why you can't leave the store without it. Experiencing this fabric on your body is difficult to describe; it's incredibly smooth and elegant, and will definitely put a smile on your face.
This is what happens when you take the finest raw materials, spinned on some of the finest mills in the world, and tranformed by the best artisans in the industry.
I would highly suggest you try one out for yourself, if you ever get the chance.
As you might already have guessed I am a huge fan of Brioni. Though it's only a couple of years since I purchased my first product, I feel grateful to have discovered this gem at a "relatively" young age.
Have you been there and do you have any pieces from Brioni yourself ? What is your go-to brand?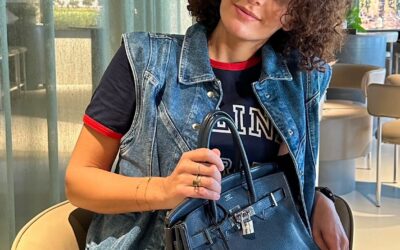 How to take care of your luxury bagJune 2023 Taking Care of Your Luxury Bag: Essential Tips for Longevity and Maintenance A luxury bag is not just a fashion accessory; it's an investment that deserves proper care and attention to ensure its longevity and pristine...